Best Casein Protein
You have all heard it by now that casein's slow release ability can help you preserve muscle mass during sleep and other periods in which you are unable to eat for an extended period of time. However, not all caseins are made the same, and here we'll take a look to see which is the best form of casein for your needs.
Micellar Casein
Micellar casein is the type of casein that we mostly associate with slow digesting protein. When it makes contact with the acid in your stomach, it forms a large insoluble glob which makes digestion slow. This is the form of casein you want for use before a fast (eg. bed).
Calcium Caseinate
Calcium caseinate, although still being derived from casein, does not share similar characteristics as micellar casein. Although it is somewhat slower digesting compared to whey protein, it does not actually form large globs when it meets acid. As such, it does not digest nearly as slow as its micellar cousin. This form of casein is best used as a blend together with whey and other faster digesting proteins to provide a complementary source of protein. It is not ideal for use before bed.
Milk Protein Concentrate & Isolate
Many people forget that milk protein is actually 80% micellar casein and 20% whey protein. Thus, if you ever see milk protein listed on the back of you protein, you can be sure it contains a good amount of micellar casein.
Top 5 Casein Proteins
With the above information in mind, let's count down the top five casein protein powders.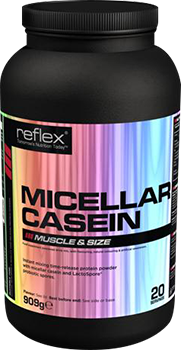 5. Reflex Micellar Casein
British manufacturers Reflex are known for making high quality and reliable protein powders. Their casein powder is as you would expect from this company. Reflex Micellar Casein is actually a milk protein concentrate, which consists of 80% micellar casein and 20% whey. What separates it from other such powders is that it also contains a live probiotic strain to assist with general health and digestion.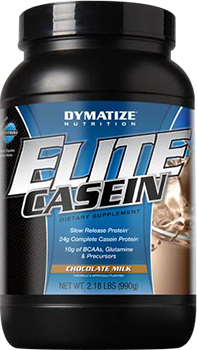 4. Dymatize Elite Casein
Dymatize Elite Casein is a back to basics casein protein. It contains predominantly micellar casein and some milk protein concentrate. What makes Elite Casein very attractive is that despite its high quality ingredients and reputable brand, it is still very reasonably priced, undercutting most of its competitors. It is also available in a wide variety of flavours, sure to please everyone.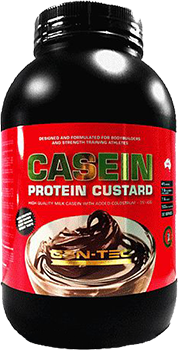 3. GenTec Casein Custard
At first glance, GenTec Casein Custard looks like any average casein product. It contains casein and skim milk powder. However, what really sets this product apart is the way you take it. Instead of mixing it into a shake, it is actually designed to be mixed into a custard. As strange as it sounds, it actually works very well and tastes absolutely delicious. It makes taking casein protein an absolute treat. On top of this, there is also some added colostrum to assist with immune function and to provide additional growth factors.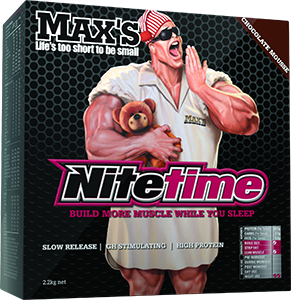 2. Maxs NiteTime
Maxs NiteTime protein is probably the most complex product on the list. Of course it contains micellar casein as its first ingredient, but it also has a bit of whey protein concentrate, and calcium caseinate. Although it has a slow release focus, it still is able to provide some fast digesting protein to kick start the muscle building process. This blend of ingredients also gives it a noticeably smoother texture compared to other casein proteins. On top of the protein blend, it contains added

amino acids and a vitamin and mineral blend as bonuses. However, its most notable additions are the calming herbs skullcap and chamomile, which may assist with sleep and relaxation.
1. Optimum Nutrition Tri-Celle Casein
You thought we forgot about Optimum Nutrition and it number one selling casein protein, 100% Casein Gold Standard. However, Optimum actually manufacture a product that is superior. Optimum Tri-Celle Casein is very similar in many ways to Gold Standard, however the major difference is in the way the casein molecules are structured. Compared to regular micellar casein, the Tri-Celle casein actually forms globules up to three times as large, meaning it takes even longer to digest. A first of its kind, this is the ultimate in micellar casein technology.