Best BCAA Supplements of 2018
Branch chain amino acids otherwise known as BCAAs are extremely effective tools to all trainers. BCAAs incorporate three essential amino acids including Leucine, Isoleucine and Valine. They are responsible for helping you build muscle, speed up recovery and increase performance particularly during and after training. BCAAs are popular supplements are useful and worth adding to your training regime no matter what their fitness goal may be. Let's review this year's best picks of BCAAs on the market.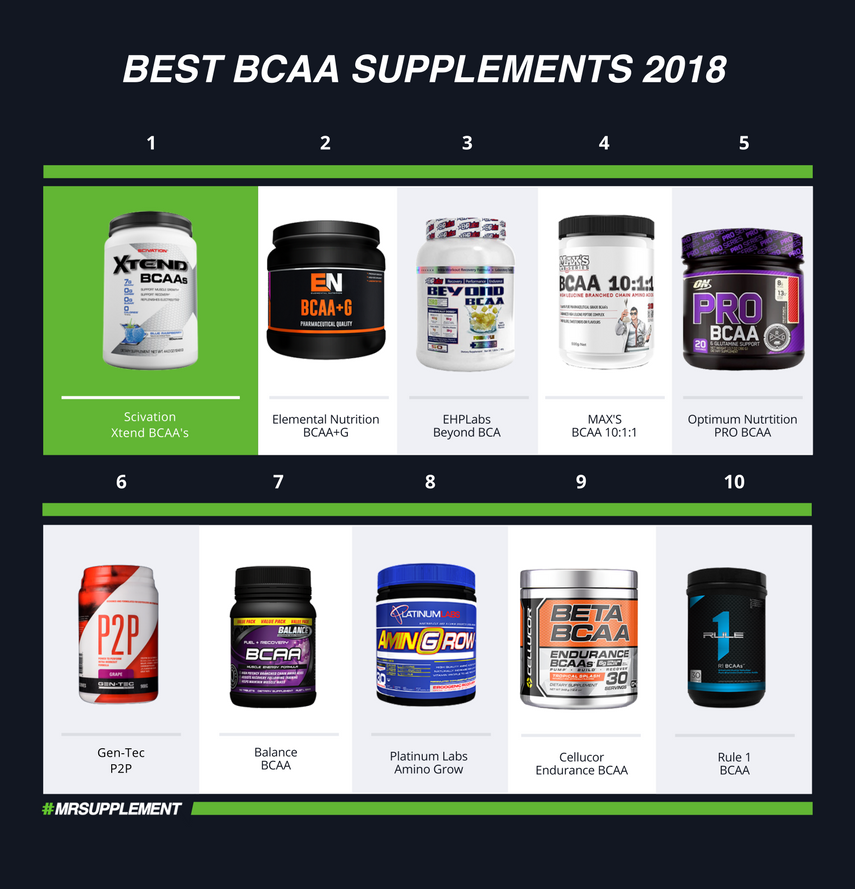 #1. Scivation Xtend
Scivation Xtend is one of the top-selling BCAAs in the market and is still going strong. With Xtend, it contains a good dose of 7 grams of branch chain amino acids, B-vitamins for energy and an electrolyte blend to keep you hydrated throughout your workout session. More importantly Xtend includes 2grams of glutamine to fasten recovery and citrulline malate for increased transportation from blood to muscle. Additionally, Xtend is available in a large range of delicious flavours for you to choose from.
#2. Elemental BCAA + G
Elemental uses pharmaceutical grade raw ingredients to produce one of the most best BCAAs on the market without any unnecessary fillers. With 8 grams of branch chain amino acids per serving with added glutamine, Elemental BCAA+G is a complete solution for your workout recovery needs. Elemental BCAA+G is also easy to consume and helps improve the intensity and duration of your workouts.
#3. EHP Labs Beyond BCAA
One of our favourite BCAAs in the market is EHP Labs Beyond BCAA. As an intra-workout, Beyond BCAA ensures that you are getting the sufficient amino acids to maximise performance and endurance during exercise. The BCAA complex features an energising matrix of B-vitamins, a recovery blend and an electrolyte blend. Together, Beyond BCAA allows you to stay anabolic, increase recovery times as well as boost performance. Each flavour of Beyond tastes great with no issues when mixed with water.
#4. Max's BCAA 10:1:1
Max's is another popular product that delivers a large 10:1:1 ratio of branched chain amino acids. This product is a simple product that provides high leucine peptides that are quick to absorb in the system. The formula also features medium absorbing aminos that further enhance the effects of BCAA to keep you amped up delivering fast results. For those who want to maximise growth and recovery potential, Max's BCAA 10:1:1 is an excellent option.
#5. Optimum Pro BCAA Powder
Although Optimum are known for their protein powders, they have also created one of the leading intra-workout powders. Pro BCAA provides 8 grams of solid branch chain amino acids together with 5 grams of vital recovery amino acid glutamine. On top of that, Pro BCAA includes a phytoblend with rich nutrients to support your immune system. Optimum Pro BCAA gives you an all-round recovery support that you can easily add to your routine.
#6. Gen-Tec P2P (Power to Perform)
Gen-Tec is one of Australia's iconic supplement brand that produces solid and effective products. The formulation utilises scientifically proven and potent ingredients including creatine monohydrate, citrulline malate and a healthy dose of amino acids to help boost strength, endurance and recovery. Gen-Tec P2P is a highly versatile supplement that can help you power through your training sessions whilst delivering positive results.
#7. Balance BCAA
Balance is one of the leaders in the sports nutrition industry and their BCAA product is one of them. The product offers users the benefits of faster recovery thanks to their muscle and energy formula. Balance BCCA is available in capsule form making it easy to ingest and a convenient option to take on the go. This can be used by any individual looking to get back to trainer faster and wanting to reduce muscle soreness.


#8. Platinum Labs Amino Grow
Platinum Labs Amino Grow is marketed to decrease muscle fatigue and help maintain training intensity. Amino Grow is made up of a solid ingredient blend that not only features the essential amino acids but has extra vitamins and a focus blend. With scientifically proven ratio of 2:1:1 branch chain amino, Platinum Labs Amino Grow is another great product to add to your list of supplements.
#9. Cellucor Beta BCAA
Although Cellucor are known for their best-selling pre-workouts, their intra-workout is just as solid. Beta BCAA's formulation incooperates a range of amino acids that is vital for muscle growth, repair and recovery. The blend also consists of 6 grams of citrulline that will you get you pumped throughout your workout. Overall, Cellucor's Beta BCAA is easily drinkable, mixes well and an exquisite intra-workout supplement for you to try.


#10. Rule 1 BCAA
The last supplement on our list is Rule 1's BCAA. This is a straightforward product that only contains the important aminos to maximise muscle recovery. It utilises micronised branch chain amino acids delivering quality BCAAs to your body. If you are wanting to maximise exercise recovery, Rule 1 BCAA is definitely worth trying if you're after a simple product that does the job.
Notable BCAAs of 2018