BCAA or Branched Chain Amino Acid supplements are some of the most widely used products outside of protein powders and creatine. They provide a bountiful supply of the three key amino acid supplements that are crucial for the building new muscle and preventing excess muscle breakdown. Often used during your workouts, BCAA supplements can also be used throughout the day as an alternative to protein shakes. It's hard to be innovative with BCAA supplements as they often only contain a very limited number of ingredients, but here are our picks for the top 10 best BCAA supplements of 2016.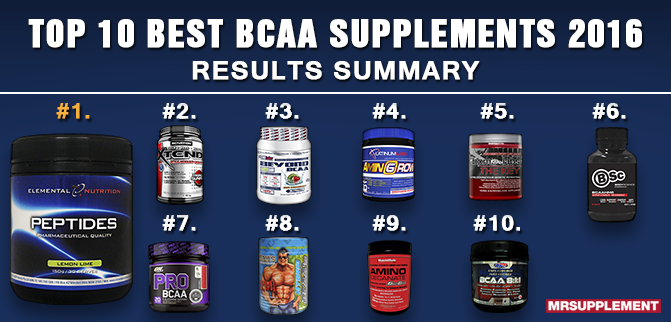 #1. Elemental Nutrition Peptides
One of the first companies to introduce BCAAs in peptide form is Elemental. The branched chain amino acids in Elemental Nutrition Peptides is absorbed much more easily and faster than almost all of their competitors. This makes the supplement far superior than most other BCAA supplements who often only utilise free form amino acids, which although still easily absorbed takes slightly longer. It's a premium quality supplement which isn't the cheapest, but it's certainly one of the best.

#2. Scivation Xtend
Although technically classified as an intra workout, the base of Scivation Xtend is based on the branched chain amino acids. Xtend is one of the most popular BCAA/intra workout supplements and has really dominated the market since its release. Each serve of Xtend provides BCAAs, but also electrolytes and other amino acids such as citrulline and glutamine to support and prolong exercise performance. Having released a range of new versions of Xtend over the past 2 years, you can bet the supplement is staying in the top 10 for many years to come.

#3. EHPLabs Beyond BCAA
In a similar vein to Xtend, EHPLabs Beyond BCAA is another intra workout and BCAA complex, which also contains an energising matrix of B vitamins, a recovery blend and an electrolyte blend. Altogether, the ingredients will help to prolong your workout and minimise muscle breakdown so you can start building muscle faster with your post workout shake. It's a delicious and excellent product from the same company who sells the most popular fat burner on the market; Oxyshred.

#4. Platinum Labs Amino Grow
Platinum Labs Amino Grow may just have come out recently, but it's already fast becoming one of the more popular BCAA and amino acid supplements around. The supplement is another value added BCAA which contains more than just the three branched chain amino acids. Each serve of Amino Grow also contains extra essential amino acids as well as a healthy dose of vitamins and a focus blend. If you want to ramp up performance and recovery, Amino Grow is the way to go.  


#5. BPM Labs The Key  
BPMLabs are best known for their extremely powerful fat burners LipoRush and Annihilate as well as their pre workout The One. The Key is their signature intra workout and BCAA supplement and although it isn't as popular as their other supplements, it still utilises an excellent formulation. Each scoop contains the usual BCAAs along with other essential amino acids to support muscle building and recovery, as well as some ingredients for energy and focus such as a selection of B vitamins, taurine and green coffee bean extract just to name a few. The Key is a little on the sour side, but it's easily drinkable and will certainly perk you up during your workout or throughout the day .

#6. BSc BCAA HMB   
One of the more unique supplements in this list, BSc Body Science's BCAA HMB is more of a HMB supplement than a BCAA supplement. HMB is a leucine metabolite that has been shown to support increased strength, lean muscle and power output whilst reducing muscle damage. The ingredient has been receiving renewed interest in the past year or so and works extremely well with BCAAs. The doses of the ingredients could be higher in the BSc product, but you'll find yourself getting some good gains nonetheless.  

#7. Optimum Nutrition Pro BCAA
It's rare to see Optimum Nutrition rank this low on a top 10 list, but it's not to say Pro BCAA is a bad product. On the contrary, Pro BCAA provides a big 8 gram hit of branched chain amino acids along with 5 grams of the crucial recovery amino glutamine. They have also decided to include a phytonutrient blend which will also help support recovery potential. It's a simple supplement, but will definitely do the job if you're after a good BCAA supplement.


#8. Max's Hybrid BCAAs
Max's Hybrid BCAAs is a no frills BCAA supplement that supplies a massive 10:1:1 ratio of branched chain amino acids. That is, they've correctly focused their attention on leucine; the core muscle building BCAA. The recommended serving size of the Hybrid BCAAs is rather small at only 1.2g, so we recommend using 4-5 scoops for best effects.


#9. Musclemeds Amino Decanate
An extremely similar supplement to Optimum's Pro BCAA, each serve of Amino Decanate includes a smaller dose of BCAAs at 5g along with 5g of glutamine. Each scoop will also provide a tiny half a gram amount of other essential amino acids. It's a decent BCAA supplement and certainly can hold its own against some of the others on this list.  


#10. APS BCAA 8:1:1
APS BCAA 8:1:1 is another simple product that features only BCAAs and no other ingredients. As its title suggests, each serve provides 8 parts leucine to 1 part valine and isoleucine. APS has specified that they use AjiPure BCAAs, which is one of the best brands of amino acids in the world. It's of high purity and the quality is second to none. For that reason, APS's BCAA 8:1:1 rounds out our list of the top 10 best BCAA supplements of 2016. 
Notable BCAA Supplements of 2016
As previously mentioned, it's hard to differentiate amongst the BCAA supplements as they are all often very similar in nature and vary by only the smallest margins. As such, any of the above choices are ideal for trainers wanting to boost their intra workout performance or their BCAA intake. As this is a limited list, some products just missed the cut including:
If you're an intermediate to advanced trainer, BCAA supplements are crucial inclusions for a dominant stack. Pick the best BCAA supplement for you in 2016 with our extensive and hand picked list.