Branched chain amino acids are effective supplements to help trigger muscle building, prevent muscle break down, and speed up the recovery process. However, it is getting harder for manufacturers to differentiate their BCAA products, but that does not mean it is impossible. This is a list to showcase what we believe are the top 10 best BCAA supplements available in 2015.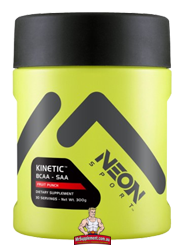 10. Neon Sport Kinetic
Neon Sport Kinetic is a unique amino acid supplement which combines the well-researched benefits of BCAAs together with the innovative silk amino acids. The unique blend of amino acids supports muscle building and is topped off with a deliciously refreshing taste.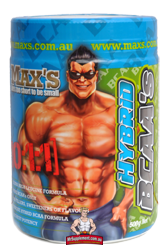 9. Max's Hybrid BCAAs
Leucine is the most anabolic of the three BCAAs. With that in mind, Max's have gone out of their way to include a huge 10 parts leucine to every part isoleucine and valine. Although the ingredients are fantastic, the recommended dose is unusually small (1200 mg). For best results, we recommend 4 to 5 scoops.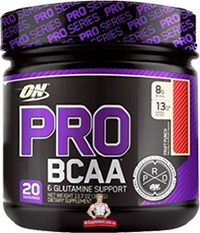 8. Optimum Pro BCAA
Optimum have had a BCAA supplements for quite a while. Now, they have taken it a step further than the basics with Optimum Pro BCAA. On top of the serious 8 g dose of BCAAs, there is also 5 g of glutamine and a 160 mg blend of fruit extracts with antioxidant properties. In true Optimum style, they have kept things simple, but of high quality.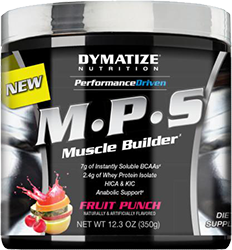 7. Dymatize MPS
Dymatize MPS provides a generous serve of high quality BCAA in each scoop. In addition, it contains two leucine metabolites HICA and KIC, which can help further stimulate muscle building. On top of its quality ingredients, elite athletes can feel confident with MPS, as it is banned substance free certified.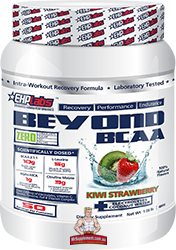 6. EHPLabs Beyond BCAA
EHPLabs Beyond BCAA actually shares many similarities to MPS. However, it has the benefit of being better value for money, while also containing some added bonuses lacking from MPS. This includes citrulline, B vitamins, electrolytes, and a relatively higher proportion of active ingredients.
5. BSc BCAA HMB
Funnily enough, BSc BCAA HMB is more of an HMB supplement than a BCAA supplement. Containing 500 mg of HMB with 550 mg BCAAs, the real power of the product comes from the HMB component. Ideally, the BCAA content would be higher, but there is no doubt that you'll see some good gains from the HMB component, which really, is a leucine metabolite after all.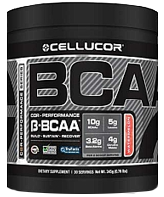 4. Cellucor Beta BCAA
Cellucor Beta BCAA is a BCAA product which can also be used as a stim-free pre workout. Containing solid doses of citrulline malate, beta-alanine, as well as HICA, not only can Beta BCAA give your muscles the fuel it needs, but it can also help you smash through more reps with one wicket pump.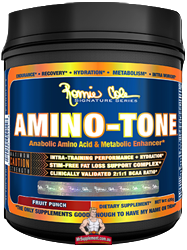 3. Ronnie Coleman AminoTone
Not just a BCAA supplement, Ronnie Coleman AminoTone is actually a three in one product. Yes, it provides BCAAs in a 2:1:1 ration, but it also provides an electrolyte blend as well as a stimulant-free fat burning matrix. This type of supplement has previously not been seen, and we'd definitely like to give the thumbs up to Mr Coleman and his team for this innovative product.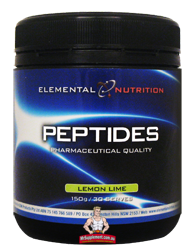 2. Elemental Nutrition Peptides
Many BCAA supplements are similar. However, Elemental Nutrition Peptides really changed the game when they were among the first to introduce BCAAs in peptide form. Compared to regular free form BCAAs, Peptides are absorbed much more rapidly and are therefore superior for recovery and muscle building compared to free form BCAAs. To be honest, this product would have been the best BCAA of the year if it wasn't for the premium price tag.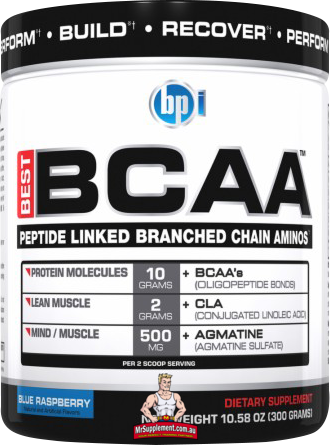 1. BPI Best BCAA
The suitably named BPI Best BCAA, is funnily enough, the best BCAA supplement of 2015. The presumptive name aside, it actually has some substance to the claim. Much like Elemental Nutrition Peptides, Best BCAA uses BCAA peptides, instead of the traditional form of BCAA. However, at a much cheaper price and with some agmatine peptides thrown in for pump, Best BCAA has to be the best BCAA of 2015.