Beetroot Boosts Strength Training Capacity
Known better for its endurance performance–enhancing properties, recent studies on beetroot have started to look at how it's naturally-occurring nitrate might help boost anaerobic measures of performance such as strength, speed and power. Professor Lars Mc Naughton and his team from Edge Hill University in England are the first group of researchers to look at effect of beetroot juice on strength training performance. And the results are pretty exciting.
Mc Naughton and his team used a simple protocol to measure beetroots' effect on strength, which bears a lot of
practical relevance to your average gym junkie looking to improve their bench press. They recruited twelve active resistance trained males (average age ~21y) who were weight training at least 3 times a week for a minimum of three years.
For one week, each subject consumed a commercial beetroot drink containing 400mg of nitrate, while during another week, they consumed an identical placebo beetroot drink devoid of nitrate. Naturally neither the researchers or the subject knew if when they were having the nitrate-containing beetroot juice, as the look, taste and smell of the juice was identical. This is what makes the research on beetroot juice of such good quality; namely that in most studies, a placebo is used which is indistinguishable from normal beetroot juice.
After each six day supplementation period, subjects performed 3 sets of bench press at 65% of their pre-determined 1RM. Each set was performed to failure. They simply wanted to see if taking beetroot juice allowed subjects to do more reps of the same weight during each set.
As the graph below shows, there was a significant increase in reps for each set of bench press when subjects had been taking nitrate-containing beetroot juice for six days. On average, each subject performed 2-3 more reps per set, which is pretty significant.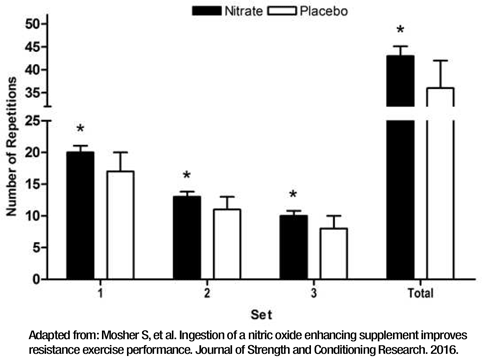 Studies before this have shown that taking nitrate-rich beetroot can decrease the amount of phosphocreatine degraded during high intensity exercise2, while others have shown it can improve fast twitch muscle performance3. These findings provided theoretical evidence that beetroot might boost strength training performance, but only with the publication of Mc Naughton's study can we finally say with confidence that a stint of nitrate supplementation should boost your strength training capacity in the gym.
It's important to highlight the dose of nitrate used (i.e. 400mg). While many pre workouts include nitrate and/or beetroot extract, often the dose used is not disclosed and if it is, it is often less than 100mg, which is thought to have negligible effect on performance. The other important aspect with nitrate supplementation is timing. It typically takes between 2-3 hours for blood nitric oxide levels to peak after taking beetroot/nitrate. So while most individuals take their pre workout 20-30 minutes before exercise, using the same practice for beetroot/nitrate would mean one's workout would be finished before blood nitric oxide levels had peaked.
So to get the most from your nitrate supplement, be sure to get your dosage and timing correct. For those that prefer to get their nitrate 'naturally', 600-700ml of freshly squeezed beetroot juice will provide approximately 400mg of nitrate. As far as the length of supplementation is concerned, studies have shown that beetroot juice's ergogenic properties are best realised if it is taken over 4-7 days, but a one-off dose also provides a meaningful performance boost4.
Mosher S, et al. Ingestion of a nitric oxide enhancing supplement improves resistance exercise performance. Journal of Strength and Conditioning Research. 2016 Apr 2. [Epub ahead of print]
Vanhatalo A, et al. Dietary nitrate accelerates post-exercise muscle metabolic recovery and O2 delivery in hypoxia. J Appl Physiol (1985). 2014;117(12):1460-70.
Ferguson SK, et al. Microvascular oxygen pressures in muscles comprised of different fiber types: Impact of dietary nitrate supplementation. Nitric Oxide. 2015;48:38-43.
Clements WT, et al. Nitrate ingestion: a review of the health and physical performance effects. Nutrients. 2014 Nov 18;6(11):5224-64.