Beef vs Whey for Muscle Growth
Beef protein has enjoyed a resurgence in popularity in recent times and the latest findings of a study published in the Journal of the International Society of Sports Nutrition will do nothing to stem that.
Using thirty college-aged resistance-trained males and females (randomly allocated to one three groups), researchers from the University of Tampa, Florida had each subject train 5 days per week (3 resistance training, 2 cardio) for 8 weeks as a part of a daily undulating periodised resistance-training program. Each day subjects took either 46g of beef or whey protein isolate or 46g of maltodextrin after their training session, or at a similar time of day on off days.
Changes in body composition were measured using the gold-standard method (called DEXA), while changes in strength were measured using 1-RM for bench press and deadlift.
At the end of the 8 weeks, subjects taking the beef protein isolate saw a 5.7% increase in lean body mass while subjects receiving whey protein isolate gained an average of 4.7% in lean body mass. However, no significant increase was seen for subjects taking maltodextrin.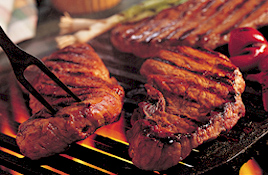 When it came to strength gains, there were no significant differences between groups, which was somewhat surprising. But the authors theorised that the uniform strength gains were explained by both increases in neural and morphological adaptations, which negated the effect of protein supplementation.
But it's important to realise that your average gym junkie, would probably settle for a gain in size over a gain in strength. It may well be that strength gains would have been seen in the subjects receiving protein if the study ran for 16 weeks instead of 8 weeks, but for now lean gains should appease the average beef protein advocate.
Sharp M, et al. The effects of beef protein isolate and whey protein isolate supplementation on lean mass and strength in resistance trained individuals - a double blind, placebo controlled study. Journal of the International Society of Sports Nutrition. 2015, 12(Suppl 1):P11