Beast Sports Nutrition Glutamine Review
It looks like 2014 is going to go down as the years when big brands went back to basics. Muscletech and locals Gen Tec were amongst the first to kick off the trend, with a distinctly branded range of single ingredient, or simply formulated products at a competitive price. Supplement giant BSN followed suit with the announcement of their DNA series, now Beast is the latest big name to go down the single ingredient path, with the announcement of four new single ingredient products. One of these is a Glutamine supplement. Let's have a look.

Beast Glutamine Highlights
Back to basics formulation
Four types of Glutamine
Potential absorption benefits
Beast Glutamine Ingredients and Dosage
Even though Beast has stripped things back with a single ingredient supplement, which is something new for them, Beast Glutamine has a bit more to the formulation, and features four different forms of this amino acid. Joining L-Glutamine is Glutamic Acid, AKG (Alpha-Ketoglutarate) and L-Alanyl-L-Glutamine. Each 300g tub holds 60 servings of 5g.
Beast Glutamine Pros & Effectiveness
This is quite a unique supplement, and there is nothing else on the market that utilises four types of glutamine. Diversifying the ways in which the the body absorbs and processes glutamine supplements may have benefits.
Glutamine, along with other amino acids, are absorbed into the body through the small intestine. There are a number of different ways for nutrients to be absorbed across this barrier. These may be passive, which means that the nutrients drift across from an area of high concentration to one of lower concentration, but because the idea of digestion is to get the nutrients on the inside and leave the waste behind, a lot of these are active. The body has many different ways to identify different nutrients and get them into the bloodstream. So what does this science lesson have to do with Beast Glutamine? Because it contains four different compounds, some of these are going to be taken into the body by different pathways. This is important, because each pathway has a maximum capacity. To give a very simplified version of events, using a number of different compounds is like opening many doors into the bloodstream, while a standard L-glutamine supplement only opens one.
In addition, the other three ingredients have beneficial effects that L-glutamine alone does not. Glutamate and glutamine are interchangeable within the body by the addition of a nitrogenous amide group, which means glutamate plays an additional role in carrying nitrogen, while L-alanyl-L-glutamine (also known as sustamine) is a super-stable form of glutamine which also acts to increase the body's nitrogen retention. AKG is known to spare glutamine, transport creatine into muscle, and buffer lactic acid during anaerobic exercise, promoting endurance. It also promotes fast recovery, and can be used as a source of energy.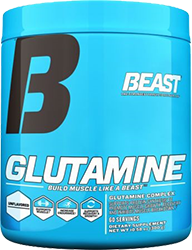 Beast Glutamine Cons, Side Effects & Negatives
Although multiple glutamine sources enhance absorption in theory, without studies on humans, it is not possible to know whether using this supplement will actually result in a higher bloodstream concentration of glutamine. There are many factors involved in the body's absorption of nutrients, and it is a complex thing to predict.
Although glutamate is a naturally occurring substance in the body, some people are wary of consuming large amounts. "Chinese Restaurant Syndrome" is contentiously related to the consumption of large amounts of glutamate, and glutamate-sensitive asthma is somewhat common. People who have experienced symptoms after consuming glutamate rich food are advised to use this supplement with caution.
Beast Glutamine Taste & Mixability
This unflavoured powder mixes quite easily into water and other fluids and dissolves completely. The taste is quite odd, and almost savoury, but it is not prohibitively unpleasant.
Beast Glutamine Verdict
Beast has jumped on the single ingredient bandwagon, but has come up with a glutamine supplement with a difference. This is a unique supplement and quite ambitious, but it is easy to see the rationale behind this formulation.