Beast Creature vs Arnold Iron Cre3
People who are serious about putting on muscle know that creatine is one of the best supplements on the market, with science proving over and over again that it really works. There are so many different brands and formulations on the market, it's hard to work out which one is is best. Beast Creature is one of the most innovative creatine products on the market, while Arnold Iron Cre3 is at the cutting edge. How do these two next-generation creatine products compare to each other?
Arnold Iron Cre3 vs. Beast Creature Ingredients
Creatine monohydrate has been the gold standard in creatine for years, but technology has seen some advances that promise better mixing, more efficient absorption, and fewer side effects. Many of these new forms of creatine are paired with complementary molecules that are beneficial to muscle building.
Creature features five different forms of creatine in a proprietary blend. Creatine monohydrate is accompanied by Crea-Trona buffered creatine, Creatine magnesium chelate, Creatine alpha-ketoglutarate and Creatine anhydrous. Beast has ensured this product is well absorbed by the inclusion of glucose polymers to stimulate the insulin release that helps creatine be absorbed, plus Cinnulin PF cinnamon bark extract, which can increase the body's sensitivity to insulin. AstraGin ginseng extract and Astralagus root can assist immune function and focus.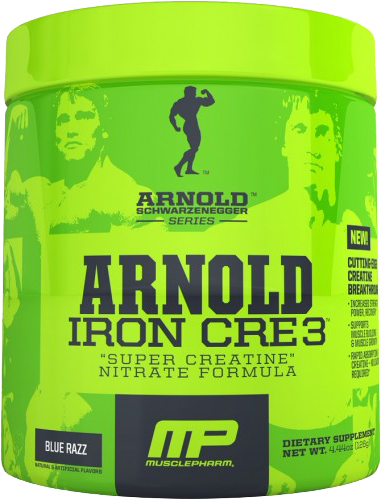 Arnold has taken a different tack and gone with a single creatine, creatine nitrate, which has been combined with a number of ingredients that support muscle building and recovery, including amino acids taurine and glutamine, coconut water for hydration, vitamins C and E, and calcium. Iron Cre3 also contains insulin-stimulating carbs.
Both of these products feature exciting new forms of creatine supported by a number of relevant ingredients.
Winner: Arnold Iron Cre3. With nitrates for pump, taurine for cell volumisation, glutamine for recovery and immune function and vitamins and minerals, Iron Cre3 promises more than just creatine.
Arnold Iron Cre3 vs. Beast Creature Dosage
Although we do not know exact quantities of each creatine variety, Beast Creature contains just over 3g of creatine in various forms, which is an excellent maintenence dose.
Creatine nitrate is claimed to be up to ten times more soluble than creatine monohydrate, and recommended doses of this creatine variety are lower than creatine monohydrate. There has not been any research supporting this claim, and knowing that creatine monohydrate, is very well absorbed, it is likely that Iron Cre3 is underdosed in terms of creatine, and also glutamine and taurine, which are usually taken in serving sizes larger than the 4.2g recommended dose would allow to be present.
Winner: Beast Creature is a well dosed supplement
Arnold Iron Cre3 vs. Beast Creature Effectiveness
While Iron Cre3 promises a whole lot more than Creature, the low dosage means that it may not deliver for everyone. Beast Creature, on the other hand, has been designed to do one thing and it does this exceptionally well. Not only is the supplement well dosed, but absorption has been considered a major concern, with five types of creatine ensuring maximum uptake. Levels of absorption are likely on par with creatine nitrate, known for its efficient uptake. Beast Creature contains not only carbohydrate, but Cinnulin to enhance the passage of creatine into cells.
Winner: Beast Creature. Although Iron Cre3 has the potential to do more, the product is let down by low dosed ingredients.
Arnold Iron Cre3 vs. Beast Creature Taste & Mixability
Both companies have done a great job with flavour, and Beast Creature and Iron Cre3 have both been well received. While Arnold have gone with classic, traditional flavours Fruit Punch and Blue Razz, Beast have gone for a citrus theme, and Pink Lemonade, Cherry Limeade and Citrus flavours are available. Creature comes in the most interesting flavours, but lacks the solubility of creatine nitrate-based Iron Cre3, which dissolves almost instantly. Incompletely dissolved product is a big cause of creatine-related stomach upset and Iron Cre3 removes this risk.
Winner: Arnold Iron Cre3. This was a very close one, because both products excel for different reasons. Ultimately, the solubility factor has decided this one in favour of Arnold Iron Cre3.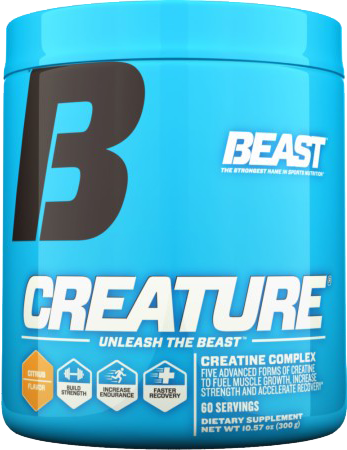 Arnold Iron Cre3 vs. Beast Creature Price & Value
Both of these supplements are advanced products made by big brands, and as such, are not at the cheap end of the price scale.
At $49.95 for a 300g tub, Beast Creature is the more expensive of the two products, however it represents the better value, providing 60 serves, or two months' worth of creatine. This works out to a very manageable 83c per serve.
Iron Cre3 is $1.11 per 4.2g serve, and each 126g tub contains enough product for 30 serves, or a month. At a higher dose, Iron Cre3 would be a very comprehensive, well dosed product, however, if we were to match the creatine dose in Creature, we'd be looking at paying over $3 a day and buying a new tub every week and a half.
Winner: Beast Creature. Until we see some evidence that creatine nitrate is absorbed more efficiently than monohydrate and other forms of creatine, Beast Creature represents the better value product.
Arnold Iron Cre3 vs. Beast Creature Overall Winner
Both of these supplements have attributes and drawbacks and both products have the potential to generate impressive muscle growth, but Beast Creature is our pick of these two next generation products.