Axis Labs Adipo-X PM
Axis Labs Adipo-X PM Facts
Axis Labs are one of the most underrated supplement companies around, but anyone using their products will know that the company produces some of the most effective and innovative supplements around such as their pre workout Sma5h Compound 5 and their BCAA supplement N'Gage. One of their latest products though is a night time variant of their popular fat burner Adipo X, which will be known as Adipo-X PM.
Axis Labs Adipo-X PM Review & Ingredients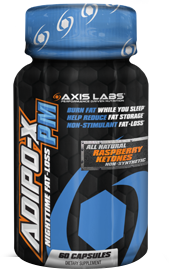 Night time fat burners are synonymous with stimulant free fat burners and there are surprisingly very few of these. Adipo-X PM only contains three ingredients including Raspberry Ketones, L-Carnitine and Vitamin C. Unlike many other night time fat burners, Adipo X PM shies away from sleep support ingredients, which is a good idea, as not everyone who is cutting requires sleep support. The ingredients in the new Adipo-X PM are fairly common, but the dosing seems slightly low to offer any significant effect. Carnitine is dosed at its minimum effective level of 500mg, but there's only 100mg of Raspberry Ketones, when most studies use around 800mg. It's ideal if Adipo-X PM is used in conjunction with the regular Adipo-X or other stronger fat burners, but by itself, the Adipo-X PM won't be doing anything dramatic.
Axis Labs Adipo-X PM Release Date
The new Axis Labs Adipo-X PM is already available in the States, however probably won't make its way down under until a powdered version is created. As such, it's hoped that the supplement will be made available in Australia by late 2014 or early 2015.