APS Nutrition GH REM Review
APS Nutrition is a company which should be well known to trainers who don't do things by halves. This company is responsible for some of the most potent supplements on the market today, including fat burner White Lightning and pre-workout Mesomorph. The company has recently broadened its range, and one of the new products is a night time formula called GH REM, which is designed to promote sleep and the release of growth hormone.
APS Nutrition GH REM Highlights
Super potent
Science backed ingredients
Develop lean mass while you sleep
APS Nutrition GH REM Ingredients and Dosage
APS has played to form with one of the strongest sleep supplements we've seen in a while. The ingredient list has a strong focus on neurotransmitter activity. GABA is a chemical that naturally occurs in our brains, and it promotes relaxation, reduces anxiety and promotes sleep, and features heavily in the ingredient list. The top three ingredients are 4-amino-3-phenylbutyric acid or Phenibut, a bioavailable derivative of inhibitory neurotransmitter GABA, GABA itself, which is listed as 4-amino butanoic acid, and a GABA derivative called 4-amino-3-hydroxybutanoic acid, or GABOB, which stimulates GABA receptors and promotes the release of HGH. Picamilon, or N-3-Pyridylcarbonyl-4 aminobutyric acid, another bioavailable form of GABA also makes an appearance. In addition, the supplement features an extract from velvet bean, or Mucuna Pruriens, known to naturally contain neurotransmitters dopamine and serotonin, the latter being a precursor to sleep regulator melatonin.
APS has also stacked this supplement with well chosen amino acids, including neurotransmitter precursors phenylalanine and tyrosine, and the HGH stmulating combination of lysine and arginine. GH REM is rounded out with vitamin B6, which is essential for the metabolism of amino acids into neurotransmitters.
APS has gone with a proprietary formula for GH REM, so while we don't know the dosage of each ingredient, with a 7.5g serving size, the main ingredients are likely to be well dosed.
APS Nutrition GH REM Pros & Effectiveness
GH REM benefits from an extremely thorough and well thought out ingredient list. Not only does it feature four analogues of GABA and Mucuna pruriens, but it also includes the amino acid precursors and the cofactors necessary for the brain's own production of these calming neurotransmitters. This is a product that has covered all bases.
The company has done their research when it comes to HGH release GH REM is one of the few HGH releasing products on the market that contains the scientifically proven combination of lysine and arginine. The inclusion of GABOB for HGH production is also unique and distinguishes GH REM from the competition.
This is truly one of the strongest sleep supplements on the market. The gentle herbal relaxants that some companies market as a sleep supplement do not work for everyone, but GH REM is in a different class, and once you try it, there will be no doubting its potency.
APS Nutrition GH REM Cons & Negatives
One of the most disappointing things about GH REM is the proprietary formulation. We know that this supplement contains great ingredients, but not knowing how much of each ingredient is present calls the dosage of each ingredient into question. The 7.5g serving size is reassuring, and we expect that the main ingredients are very well dosed, but a fully transparent ingredient panel is always preferable.
While they are legal and generally regarded as safe, GABA derivatives phenibut and picamilon can behave unpredictably in some people. Some people report hangover like symptoms, and tolerance and addiction has been documented. Starting with a low dose and taking regular breaks from usage can minimise the chances of adverse effects in people who are prone.
APS Nutrition GH REM Taste and Mixability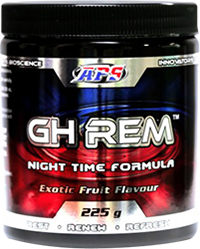 GH Rem is available in lemonade, strawberry and exotic fruit flavours, all of which work well with, and mask the tang and bitterness of the active ingredients in this potent supplement. GH REM mixes very easily with minimal shaking and is very easy to drink.
APS Nutrition GH REM Overall Verdict
GH REM is a cleverly formulated product that reflects current scientific thought. APS has carried on its existing reputation by producing one of the strongest sleep support supplements on the market, and it is perfect for serious trainers who want to take things to the next level.