APS D-Aspartic Acid Review
APS Nutrition is an American company with a reputation for high potency, super effective supplements. Their no-nonsense range includes a number of super pure single ingredient supplements, to which APS has recently added with the release of testosterone optimising D-Aspartic Acid.
APS D-Aspartic Acid Highlights
High purity
Single ingredient product allows flexible dosing
Backed by research
Easy mixing and versatile
APS D-Aspartic Acid Ingredients & Dosage
APS D-Aspartic acid is nothing but 100% D-Aspartic acid, and it contains no flavours, colours, sweeteners or fillers. The recommended serving is 3g daily.
APS D-Aspartic Acid Pros & Effectiveness
D-Aspartic acid has been scientifically proven to effectively increase testosterone levels, so it is a great choice for a stand alone supplement. It has been shown to act on the brain, stimulating the production of luteinising hormone (LH), follicle stimulating hormone (FSH) and human growth hormone (HGH), which result in an increase in testosterone levels. It is also thought to alleviate a rate-limiting step in the production of testosterone, so it is able to increase anabolic hormone levels in a number of ways.
Research has shown that the testosterone boosting effects of D-Aspartic acid are short acting, meaning that it has a different mode of action to a lot of other testosterone boosters, which may work better over the long term. This means that a supplement that combines the two may not work efficiently. Keeping D-Aspartic acid as a stand alone supplement makes it easy for the user to obtain maximum benefit through supplement timing, loading before a competition or event, or a cycling regime.
APS D-Aspartic Acid Cons & Negatives
APS is a company known for strong and cleverly formulated multi-ingredient products, like popular fat burner White Lightning and pre workout Mesomorph, which have been joined recently by super potent sleep support supplement GH REM. These products have a strong and dedicated fanbase, who have undoubtedly been disappointed that APS did not apply their legendary talent for formulation to the creation of a game changing testosterone booster.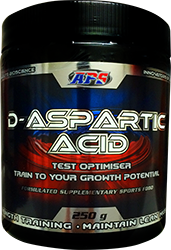 There is a lot of research behind D-Aspartic acid, and we know that it is very effective in boosting testosterone levels in the short term, with less information supporting any benefit long term. Once again, APS has delivered an effective product, but it is something that it best used by an advanced trainer who has the knowledge to get most out of the product. People looking for a strong test booster they can take on a medium to long term basis and see continual improvement are more likely to go for a product like Elemental Nutrition Massive Muscle Fuel 2.0, which features the sort of highly potent, well formulated ingredient list that is reminiscent of an APS product.
APS D-Aspartic Acid Taste & Mixability
This unflavoured product has a relatively benign taste, which means it is easy to mix into water, juice, or even a protein shake. The product dissolves well with some shaking.
APS D-Aspartic Acid Overall Verdict
For trainers who know what they're buying, and how to properly take D-Aspartic acid, this is a great quality, high purity product that science has proven effective in boosting testosterone levels in the short term.