Suppress Appetite For Fat Loss & Lean Muscle
Fat loss has never been said to be easy. Whilst this may be the case, any tools to help you shed extra weight would be useful in your endeavour to achieve your ultimate physique. Ghrelin is a hunger hormone exerted by the hypothalamus which can increase food intake and increase fat mass. Ghrelin also activates what is known as the 'mesolimbic cholinergic-dopaminergic reward link,' a circuit that communicates the hedonic and reinforcing aspects of rewards such as food, as well as addictive drugs. Satiety is the sense of satisfaction and fullness experienced after eating. Hunger and satiety both depend on a complex feedback loop involving many hormones and other substances secreted by the gut that interact with control centres in the brain. The gut participates in the circuit by secreting two hormones, cholecystokinin and glucagon-like peptide-1, among others. Cholecystokinin is recognised to suppress appetite. Glucagon-like peptide-1 is produced in the small intestine in response to fat and carbohydrates, and slows down food absorption in the gut, promoting feelings of fullness and satiety. This limits the desire for further food intake.
Ingredients in Fat Loss Suplements
With respect to supplements, most fat loss supplements include appetite suppressants as part of their formula. Some common ingredients in these include:
Phenylalanine is an amino acid that is structurally related to epinephrine (adrenaline), dopamine and tyrosine. It is also beneficial when used to suppress hunger and is found in many weight loss supplements. L-Phenylalanine is an amino acid that is proven to increase energy expenditure by boosting adrenaline and noradrenalin. It is especially effective when combined with green tea and other natural ingredients in weight loss supplements. L-Phenylalanine is effective as an appetite suppressant and has the ability to increase metabolism.
St John's Wort is primarily used as an antidepressant, but has been shown to be effective in assisting fat loss. When taking St. John's Wort, avoid foods containing tyramine, such as aged cheese, cured or aged meats, wines, etc.
Chromium works to increase insulins efficiency. Chromium is a naturally occurring mineral, trace amounts of which are found in foods such as meat, poultry, fish, and whole-grain breads, but is stripped away in processing. Chromiums most common use is as a weight loss aid. Chromium can be combined with picolinic acid to aid its absorption. Insulins function is to transport glucose to the body's cells to provide energy that facilitates cell function. Chromium is believed to stimulate the activity of insulin, thus significantly aiding the body's glucose and fat metabolism, thus managing the breakdown of glucose and fat.
Pinolenic Acid is extracted from a Korean pine nut and has demonstrated ability to affect feelings of satiety and hunger. Researchers discovered that the pine nut extract stimulates production of the two hunger suppressing hormones CCK and GLP-1, as discussed above. In a recent study, those who received pinolenic acid reported significantly decreased hunger compared to subjects who had taken a placebo. Lab tests reinforced this, showing that pinolenic acid increased satiety hormones in the participants' bloodstreams. Four hours after pinolenic acid was taken, participants had 60% more CCK circulating in their bloodstreams than in that of the placebo group.
Hoodia gordonii grows in the wild in the Kalahari desert in South Africa. It has been eaten for centuries by the Kalahari bushmen. Hoodia acts on the brain in a manner similar to glucose and sends the message that you are full even when you have not eaten, suppressing appetite. This ingredient is illegal for sale or importation into Australia without a government approved import permit, as this is an endangered plant species.
Supplements For Appetite Suppression & Fat Loss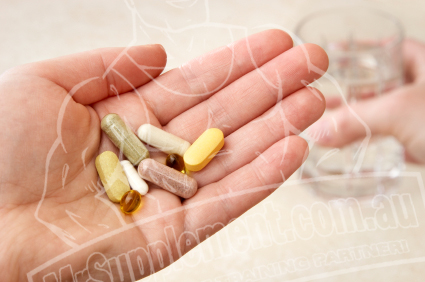 Thermogenic supplements have been shown to increase the body's temperature enabling it to burn calories, such as heat as an energy source, thus preventing its storage as fat. Many of these supplements incorporate appetite suppressing ingredients to enhance their fat burning effect. Most also include ingredients to enhance energy, such as caffeine. To achieve the optimum fat loss, do not look for a supplement that just suppresses appetite, seek a supplement that synergistically combines the benefits of thermogenesis, enhanced metabolic rate and energy stimulus, with appetite suppression. Combined with a healthy diet and appropriate training program, fat loss supplements will help you achieve your body fat loss aims.