Alphamine Advanced Review
Physique Enhancing Science or PES as they are more commonly known have recently released an updated version of their popular fat burner, Alphamine. Simply called Alphamine Advanced, the new formula boasts a bigger serving size (i.e. 6.18g vs 5g) and a few additional ingredients. Despite the larger serving size, however, Alphamine Advanced still retains the same number of serves (i.e. 42) as the original. This was achieved by increasing the size of the powder from 210g to 260g.

Alphamine Advanced vs Alphamine
As the table below reveals, the main difference (highlighted in bold) between the new Alphamine Advanced and original Alphamine is the addition of several new funky botanical extracts in place of some of the ones in original Alphamine. The average supplement Joe Bloe probably hasn't heard of some of the extracts (i.e. Selaginnella tamariscina, lindera aggregate, auraptene and cirsium oligophyllum)but you'll be surprised to hear that most of the extract have a bit of science behind them.
Alphamine

Amount

Alphamine Advanced

Amount

Taurine

915mg

Taurine

2000mg

Caffeine

250mg

L-Tyrosine

Unstated

D-Glucuronolactone

800mg

Caffeine

320mg

Higenamine

Unstated

Higenamine hydrochloride

Unstated

Alpha-hydroxy-isocaproic acid

Unstated

Citrus aurantium extract

Unstated

Eucommia ulmoides leaf extract

Unstated

N-methyl-tyramine

Unstated

Bacopa monniera extract

Unstated

Selaginnella tamariscina extract (AmentoMAXTM)

Unstated

Lindera aggregata extract (Boldine)

Unstated

Auraptene

Unstated

Cirsium oligophyllum extract

Unstated
Alphamine Advanced Ingredients
Selaginnella Tamariscina (AmentoMAXTM)
Selaginnella tamariscina is said to promote intracellular calcium release which is crucial to maximising muscle contraction. This is the same mechanism by which caffeine is thought to act, however, PES report that AmentoMAXTM is 20 times stronger than caffeine in this regard, but it's hard to find any solid evidence to back up this claim. Much of the scientific research on Selaginnella points towards its efficacy in supporting healthy blood sugar level, which in and of itself is a good thing1.
Lindera Aggregata (Boldine)
Lindera aggregata extract or Boldine is pitted as a replacement for Yohimbine. The link between the two lies in the fact that both act as antagonists of alpha-2 adrenoceptors, however, Yohimbe has a lot more clinical evidence supporting its action in this regard, while there is effectively none to suggest that boldine can act in the same way. Rather, the bulk of evidence suggests it is an effective anti-hypertensive and anti-diabetic agent, with other recent research suggesting it may have some weak anti-cancer properties2.
Auraptene
Auraptene is an interesting one as it is a commonly found in plants belonging to members of the Citrus genus such as orange, grapefruit and mandarin. According to the scientific literature, it has a host of valuable pharmacological properties including potent cancer chemopreventive, antibacterial, anti-inflammatory and immune-modulatory to mention a few3. It's unclear exactly what role it is meant to play in the formula, but it has a host of therapeutic benefits.
Cirsium Oligophyllum
Cirsium oligophyllum extract on the other hand does have some evidence behind it for its fat-burning potential. In fact, studies have suggested that it may result in greater weight loss when combined with caffeine4.
Alphamine Advacned Taste & Mixability
Taste wise Alphamine Advanced will tick the box for most users. It has a reasonable balance between sweetness and citrus notes. It comes in two flavours, namely, peach orange and pine mango. As you would also expect from any quality pre workout, there are no issues when it comes to mixing Alphamine Advanced.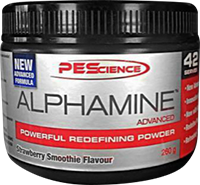 Alphamine Advanced Verdict
Unlike some supplement upgrade, the update to Alphamine is certainly worth the new name and associated hype. It comes with a bigger size, more ingredients and more of some key ingredients like caffeine and taurine.
Zheng XK, et al. Antihyperlipidaemic and antioxidant effect of the total flavonoids in Selaginella tamariscina (Beauv.) Spring in diabetic mice. J Pharm Pharmacol. 2013 May;65(5):757-66.
O'Brien P, et al. Boldine and its antioxidant or health-promoting properties. Chem Biol Interact. 2006 Jan 5;159(1):1-17.
Razavi BM, et al. Antihypertensive effect of auraptene, a monoterpene coumarin from the genusCitrus, upon chronic administration. Iranian Journal of Basic Medical Sciences. 2015;18(2):153-158.
Mori S, et al. Body fat mass reduction and up-regulation of uncoupling protein by novel lipolysis-promoting plant extract. International Journal of Biological Sciences. 2009;5(4):311-8.