Alpha Pro Nutrition GR8TEST Review
Alpha Pro Nutrition may be a fairly new supplement company, but their formulations make it seem like they've been around the industry for years. They only have a small number of products, but each of their products utilise some excellent and well researched ingredients. One of their core supplements is their testosterone support supplement Alpha Pro Nutrition GR8TEST. Let's take a look at what's in the supplement and how it compares with other similar products.
Alpha Pro Nutrition GR8TEST Highlights
Well researched and validated test support ingredients such as D Aspartic Acid, Vitamin D and Longjack
Added nitric oxide and pump support ingredients to help double as a pre workout
Optimise testosterone and estrogen levels whilst supporting increased blood flow
Alpha Pro Nutrition GR8TEST Ingredients & Dosage
Alpha Pro Nutrition's GR8TEST is a D Aspartic Acid based test booster which also features three proprietary matrices of ingredients including:
Estroblock Matrix (210mg) – Maca Root, Chrysin Extract and DIM (diindolymethane)
GR8TEST Testosterone Formula (1,250mg) – L-Carnitine L-Tartrate, Nettle Root (Urtica Dioica), Chaste Tree Fruit Extract (Vitex Agnus Extract), Longjack Root Extract (Eurycoma Longifolia)
NO Accelerator Complex (1,000mg) – Agmatine Sulfate (AgmaMAX), Citrulline Malate, Arginine AKG, L-Arginine
Other ingredients in the supplement include 3,500mg of D Aspartic Acid as well as Vitamin B6 and Vitamin D. Each tub comes with 45 servings of 9.4g.
Alpha Pro Nutrition GR8TEST Pros & Effectiveness
One of the most interesting aspects of GR8TEST is that it is one of the rare supplements of its kind that utilises nitric oxide or pump ingredients. This helps to increase its versatility making it a supplement you can also take just before your workouts. Alpha Pro Nutrition has also utilised some of the most validated and well researched ingredients for test support including D Aspartic Acid, Longjack, DIM, L-Carnitine L-Tartrate, Vitamin D and Chrysin. Here are some of the ingredient highlights:
D Aspartic Acid – An excellent test boosting ingredient, especially for those whose levels are lower than usual, Alpha Pro Nutrition has included a sizeable and researched dose.
Eurycoma Longifolia – Also known as Longjack, it is an extremely expensive ingredient and is said to be a potent aphrodisiac.
L-Carnitine L-Tartrate – While this ingredient has not been shown to boost testosterone levels, L-Carnitine L-Tartrate can help support increased androgen receptors. This means it can help enhance the action of available testosterone.
Alpha Pro Nutrition GR8TEST Cons
The main drawback with Alpha Pro Nutrition is the dose. While many of the ingredients are well dosed, just as many could do with a larger dose. It's still an excellent supplement nonetheless and if you took 2 recommended servings per day, you'll be sure to get plenty of what you need to optimise your testosterone levels.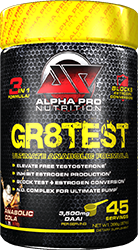 Alpha Pro Nutrition GR8TEST Flavours, Taste & Mixability
Alpha Pro Nutrition GR8TEST comes in two official flavours including Cola and Kiwi Strawberry. Very few supplements come in Cola flavours, so GR8TEST is certainly unique in that respect. The flavour is quite pleasant and tastes somewhat similar to their advertised flavours, unlike some other test boosters out there. The product mixes well with little residue and minimal frothing. Overall, it's definitely something that you can take for a good 4-6 week cycle.
Alpha Pro Nutrition GR8TEST Verdict
Alpha Pro Nutrition's test booster GR8TEST is definitely a good supplement, which utilises an excellent range of ingredients. Some of those ingredients could be dosed better, but a second serving of the supplement should provide you with an adequate dose to help you optimise your testosterone levels. GR8TEST is a solid product from Alpha Pro Nutrition and definitely shows that the company has excellent potential.