Aerobic & Strength Training Best for Insulin Sensitivity
The question of the most healthy form of exercise (i.e. aerobic or strength) is a hotly debated one. Despite some studies showing impressive results for resistance exercise or a combination of the two, there really haven't been any robust enough studies to conclusively say one modality is better than the other. There also have been enough good quality studies to determine whether a combination of the two is best.
But this is about to change with the publication of a new landmark study in the prestigious Journal of Applied Physiology. Led by researchers from Duke University in North Carolina, this latest study comprised three separate groups; one comprised of individuals only undertaking resistance exercise, another with individuals only undertaking aerobic exercise (with an equivalent time commitment) and another combining aerobic and resistance exercise to see if there are any additive, synergistic or even antagonistic effects.
Subjects for the study were sedentary, aged from 18-70 years, BMI between 26-35 kg/m2 and with mild to moderate dyslipidemia. However, they were required to have no history of diabetes, hypertension, or coronary artery disease. Rather than measuring weight loss, muscle or strength gain, the study was primarily concerned with the effect of the different exercise interventions on insulin sensitivity, which was measured by intravenous glucose tolerance test(s).
Adding to the study's credibility though was the length that it ran for and its total number of subjects. Running over eight months with 144 completing the study (from an initial starting pool of 234), the study was a weighty one that allowed for more statistically significant findings.
Aerobic Exercise
The aerobic exercise prescription was devised using an interesting model that used individuals' fitness level and bodyweight to prescribe daily aerobic exercise. For example, all subjects were prescribed a specific amount of exercise per unit bodyweight (i.e. 14 kcal per kilogram of body weight per week). With fitness level being determined by maximum oxygen consumption, this meant that individuals with a higher VO2max (i.e. fitter) did not have to exercise as long (because they naturally consume more oxygen and therefore expend more energy). The aerobic exercise modes included treadmill, elliptical trainers, cycle ergometers or any combination of these. The quote below taken from the study shows how the authors arrived at aerobic exercise prescriptions for each individual.
"For example, a 100 kilogram person would be prescribed to expend 1400 kcal per week (100 x 14). If their maximal oxygen consumption was 4 liters per minute and they exercise at 75% of that value, they consumed 3 liters of oxygen per minute. Consuming one liter of oxygen requires approximately 5 kcal of energy expenditure(35). So exercise at a rate that requires 3 liters of oxygen consumption per minute is equivalent to expending 15 Kcals per min. Therefore this 100 kg person who has an exercise prescription of 1400 kcals per week would need to exercise 93.3 minutes per week (1400 kcals per week divided by 15 kcals expended per minute = 93.3 minutes per week). This subject could choose to do 2 sessions per week of 46.7 minutes or 3 sessions of 31.1 minutes.1"
Resistance Training
For subjects randomized to resistance training, the study included a ramp period, which began with one set during Weeks 1-2, two sets during Weeks 3-4, building up to the prescribed three sets on Week 5. Resistance training subjects were prescribed three sessions per week (on non-consecutive days) of three sets of 8-12 repetitions on eight Cybex weight lifting machines designed to target all major muscle groups. Throughout the training intervention, the amount of weight lifted was increased by five pounds each time the participant performed 12 repetitions with proper form on all three sets on two consecutive workout sessions to insure a progressive resistance training stimulus.
Combined Aerobic & Resistance Training
Subjects randomised to combined resistance training and aerobic exercise completed the full aerobic and full resistance training regimes. So the individuals in this group naturally exercised more in total than the other two groups.
As highlighted above, the researchers were primarily concerned with the effect of the different exercise interventions on blood glucose control and associated insulin function. The graphs below show the superior results obtained with combined aerobic and resistance exercise versus either alone. AT/RT resulted in greater improvements in insulin sensitivity, beta cell function (disposition index) and glucose effectiveness than either aerobic exercise or resistance training alone.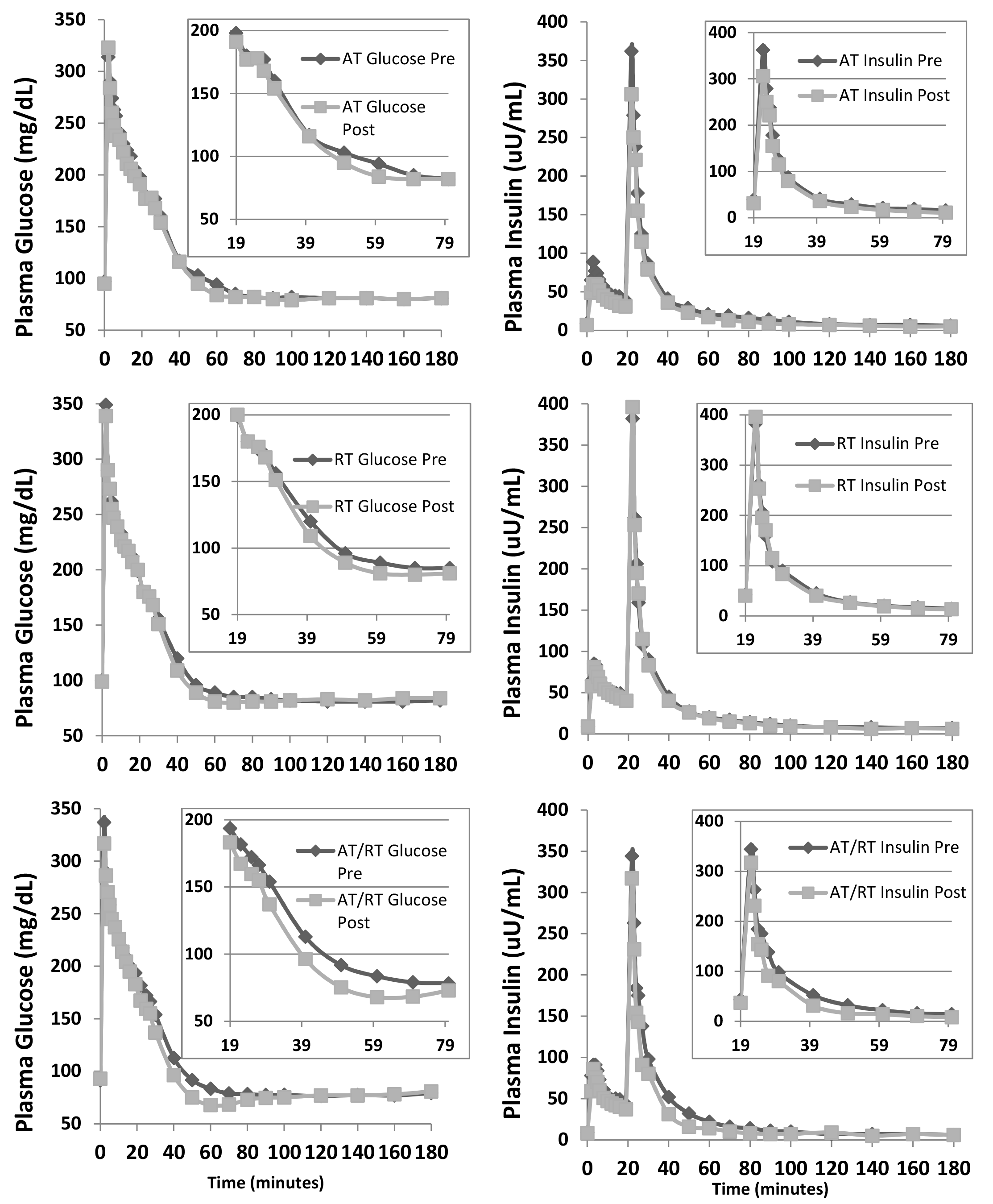 The other aspect of the study was concerned with the acute versus chronic effects of each exercise mode on insulin sensitivity. That is to say, the authors wanted to see how long the effects of each exercise type would persist. To test this, they took measures within 24 hours following exercise and also 14 days after the cessation of exercise training. When testing the aerobic & resistance training group after 14 days, approximately 52% of the improvement in insulin sensitivity was retained. But this was the only group to show this effect.
In summary, neither aerobic training or resistance training alone led to acute or chronic improvements in insulin sensitivity. Only combined aerobic and resistance training (which required twice as much time as either alone) led to significant acute and sustained benefits in insulin sensitivity.