How to Get Abs for Summer
The proverbial washboard midsection, or 'six pack' could be the single most desirable body part to have. At the beach, a well-defined set of abdominals is a real head turner. To burn through unwanted tummy fat to reveal the six pack, diet plays the key role. Regardless of how much ab training you do, if you are fat, you will still need to lose the excess weight through a strict diet and cardio before any definition is evident.
Ab Fat Spot Reduction Myth
Getting abs is critically dependent on proper eating and supplementation.1 By far the biggest misconception surrounding abdominal training is that exercising the abs will burn the fat that covers them. What you eat, when you eat and in what portions, the amount of cardio you do and when you do it will determine how much body fat you carry and whether you can see your abs. Abdominals are built with exercise and honed with diet.2 It has been proven repeatedly that spot reduction of fat around your waist is not possible through high-repetition sit ups, leg raises, side bends or any other exercise.
Genetics & Abdominals
Your personal genetics limit what you can achieve. Genetics affect your ab development in 3 ways:
Low level of body fat. It is possible to have great abdominals that go unnoticed, if they are covered by body fat.
Favourable ordering of spots from which you lose body fat. Your body has a genetically pre-determined pattern for storing fat, and an inverse pattern for losing it. For example you might put fat on your abdominal area and then the arms, but lose fat off the arms before you lose if off your belly.
Symmetrically paired abdominal muscles. Most people who are extremely lean in the midsection can display three paired rectangular blocks of muscle, otherwise known as the six-pack.
The bottom line is that if you have too much fat around your waistline then you probably have too much fat over the rest of your body as well. To reduce your body fat, you will have to train your body with body fat loss as a goal.3
Muscles of The Abdomen
The rectus abdominus, a long muscle extending along the length of the ventral aspect of the abdomen, originates in the area of the pubis and inserts into the cartilage of the 5th, 6th and 7th ribs. Its basic function, is to flex the spinal column and to draw the sternum towards the pelvis. The external obliques (obliquus externus abdominus) muscles are at each side of the torso attached to the lower eight ribs and inserting at the side of the pelvis. Its basic function is to flex and rotate the spinal column. The intercostals are the two thin planes of muscular and tendon fibres occupying the spaces between the ribs. Its function is to lift the ribs and draw them together.4
How Can I Get Abs?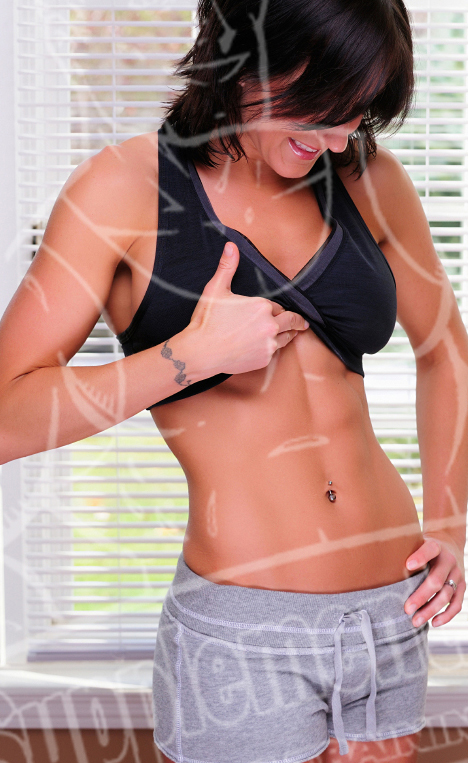 In order to reveal your abdominals, you will need to focus on body fat. The following supplements may help this:
1 Extreme Muscle Enhancement by Carlon M. Colker, MD, FACN, p. 213
2 Encyclopedia of Bodybuilding, by Robert Kennedy, p. 575
3 The New High Intensity Training, Ellington Darden, PhD, p. 185
4 Encyclopedia of Bodybuilding by Arnold Schwarzenegger, p. 533