About Time have the ethos of delivering supplements for the utmost health conscious and those who care about what goes into their bodies. Their Natural Vegan Protein (AKA Ve) is a unique protein powder that is 100% natural and vegan friendly.
About Time Vegan Protein Highlights
Vegan protein powder containing low allergy pea, rice, and pumpkin protein
100% natural ingredients and free from GMOs and gluten
Contains digestive enzyme blend.
About Time Vegan Protein Ingredients
About Time Vegan Protein uses a very interesting blend of vegetable derived protein sources previously unseen by the reviewer. This consists of pea protein, brown rice protein, and pumpkin protein. In addition there is a dab of coconut oil powder. The protein is flavoured with natural flavours and stevia. Finally, a digestive enzyme is also included to assist with nutrient absorption.
In each 28.4 g serve you get 122 calories, 24 g protein, 1 g carb, and 2.5 g fat. Some of these figures vary between flavours.
About Time Vegan Protein Effectiveness and Benefits
About Time Ve contains an excellent vegan protein blend. The pea and rice combination provides a well balanced mix of essential amino acids. This is a common blend that has been used more recently by knowledgeable companies to compensate for a couple of amino acids that are often inadequate in individual vegetable protein sources. The pumpkin protein is the interesting addition which provides another good source of plant protein. All three of these protein sources are considered to be hypoallergenic and overcome issues with soy sensitivity that may be encountered by a small group of people.
Ve Protein is suitable and effective for anyone looking to build lean muscle without the use of any animal derived products. Its also an excellent protein supplement in general for those who may be lacking it in their diet. Ve Protein can also be used as a fat loss aid, as part of a low fat and low carb meal replacement.
About Time Ve provides an impressive concentration of protein, around 84%, which is not just high for a vegan protein, but high for a protein powder, fullstop. This demonstrates the high quality of ingredients used to make About Time Ve, and the extensive processing involved to remove unwanted fats and carbs.
An addition benefit of About Time Ve is that all ingredients are free from GMOs, gluten, soy, and dairy. This is great news for people who seek to avoid these ingredients for whatever reason.
About Time Vegan Protein Cons & Negatives
About Time Vegan Protein is unfortunately not the best value for money protein powder. This seems like a common trend for natural vegan protein powders, in which customers are required to pay a premium compared to natural non-vegan proteins. As such, About Time Ve is definitely a premium product. Other than this, About Time Ve is difficult to fault.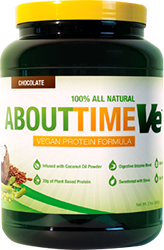 About Time Vegan Protein Taste & Mixability
Gone are the days of poor mixing vegetable proteins. About Time Ve mixes very well compared to other vegan proteins, and is also significantly less chalky in texture compared to a 100% rice protein. It comes in two different flavours, chocolate and vanilla. Both options include high quality flavouring, which taste rich. Although the shake is not as smooth and creamy as a whey protein shake, the taste can be significantly improved by using almond milk.
About Time Vegan Protein Verdict
As far as vegan proteins go, About Time Vegan Protein is one of the best. It overcomes many limitations associated with vegan proteins and provides a good alternative to dairy based protein powders. Being GMO and gluten free, Ve is suitable for almost anyone looking for a vegan protein source.