https://www.mrsupplement.com.au/13-lives-thermoshroomz?variation=14556
13 Lives Thermoshroomz (180g / 30 Serves Lemon Lime)
13 Lives
Supplements > Fat Loss > Fat Burners
https://cdn.mrsupplement.com.au/resources/imgs/products/13-lives-thermoshroomz.1620351799315.png
http://schema.org/NewCondition
http://schema.org/OutOfStock
AUD
https://www.mrsupplement.com.au/13-lives-thermoshroomz?variation=14556
57.95
AUD
https://www.mrsupplement.com.au/13-lives-thermoshroomz?variation=14557
13 Lives Thermoshroomz (180g / 30 Serves Raspberry)
13 Lives
Supplements > Fat Loss > Fat Burners
https://cdn.mrsupplement.com.au/resources/imgs/products/13-lives-thermoshroomz.1620351799315.png
http://schema.org/NewCondition
http://schema.org/OutOfStock
AUD
https://www.mrsupplement.com.au/13-lives-thermoshroomz?variation=14557
57.95
AUD

Thermoshroomz
Stim Free Thermogenic
Improve Natural Energy levels, Without Stimulants
Support Calorie Synthesis
Mushrooms to Support Focus and Vitality
3 Types of Keto Salts

(1)
Write a review
Product
Q&A's
Reviews
Add To Cart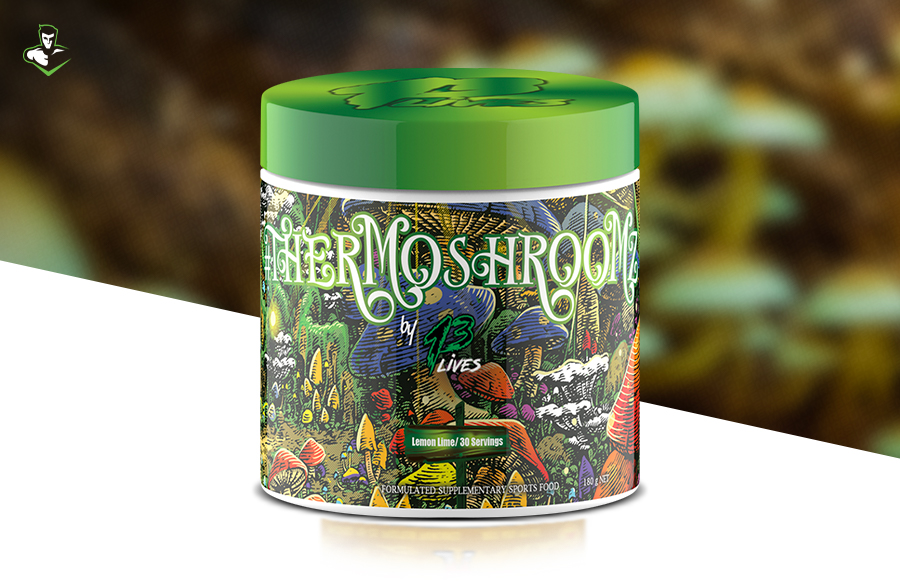 Looking for non-stim fat loss powder or just want to take a break from stimulants or caffeine?⠀
Thermoshroomz is a new generation product that can be used at any time of the day without compromising your sleep pattern. At the same time, the quality of your workout will remain at maximum performance. With a modern lifestyle, you not only want to, but need to keep up. To feel at your best from morning to evening but at the same time, have a high-quality and deep sleep.
Lose fat with the support of 13 Lives Thermo Schoomz unique ingredients which include keto activating BHB Salts, Acetyl L-Carnitine, Alpha GPC, GBBO® & Cordyceps Militaris Extract. It is an easy to drink formula with a fantastic lemon-lime flavour.
13 Lives Thermoshroomz Review
So after sampling Thermo Shroomz powder by 13 Lives now for 30 days we comment the flavour is very palatable & easy to drink. Whilst on a calorie controlled diet and with regular exercise you would expect ThermoShroomz to at very minimum support your weight loss goals and for most users accelerate them. The inclusion of acetyl l-carnitine and BHB salts certainly provides mental focus and energy noticable around 20 minutes after consuming. Overall this is an excellent fat loss powder & perfect for those that want to go stimulant free or for users looking to use it in the evening & still get a good nights sleep. For Mr Supplement customer reviews be sure to click the "Reviews" tab on this product page.
Q&A's
Ask a question about
13 Lives Thermoshroomz
Reviews

Average

Based on reviews collected by
&
Write a review

13 Lives Thermoshroomz
13 Lives Thermoshroomz
13 Lives Thermoshroomz
180g / 30 Serves Lemon Lime
Takes a few extra shakes during sinking time to dissolve
Collected via Trustpilot
Next Page
Contact Us