https://www.mrsupplement.com.au/13-lives-instahoe-Verified?variation=14384
13 Lives Verified (220g / 30 Serves Cola Lime)
13 Lives
Supplements > Fat Loss > Fat Burners
https://cdn.mrsupplement.com.au/resources/imgs/products/13-lives-instahoe.1612914839907.png
http://schema.org/NewCondition
http://schema.org/InStock
AUD
https://www.mrsupplement.com.au/13-lives-instahoe-Verified?variation=14384
74.95
AUD
https://www.mrsupplement.com.au/13-lives-instahoe-Verified?variation=14195
13 Lives Verified (220g / 30 Serves Mango Passionfruit)
13 Lives
Supplements > Fat Loss > Fat Burners
https://cdn.mrsupplement.com.au/resources/imgs/products/13-lives-instahoe.1612914839907.png
http://schema.org/NewCondition
http://schema.org/InStock
AUD
https://www.mrsupplement.com.au/13-lives-instahoe-Verified?variation=14195
74.95
AUD
https://www.mrsupplement.com.au/13-lives-instahoe-Verified?variation=14382
13 Lives Verified (220g / 30 Serves Wild Berry)
13 Lives
Supplements > Fat Loss > Fat Burners
https://cdn.mrsupplement.com.au/resources/imgs/products/13-lives-instahoe.1612914839907.png
http://schema.org/NewCondition
http://schema.org/InStock
AUD
https://www.mrsupplement.com.au/13-lives-instahoe-Verified?variation=14382
74.95
AUD

Verified
Potent Modern-Day Fat Burner
Thermogenic Agent
Weight Management with Fat Metabolisers
Appetite Suppressor, Sweat Enhancer & Stimulant Formula
Added Collagen for Healthy Glowing Skin
In Stock

(1)
Write a review
Product
Q&A's
Reviews
Add To Cart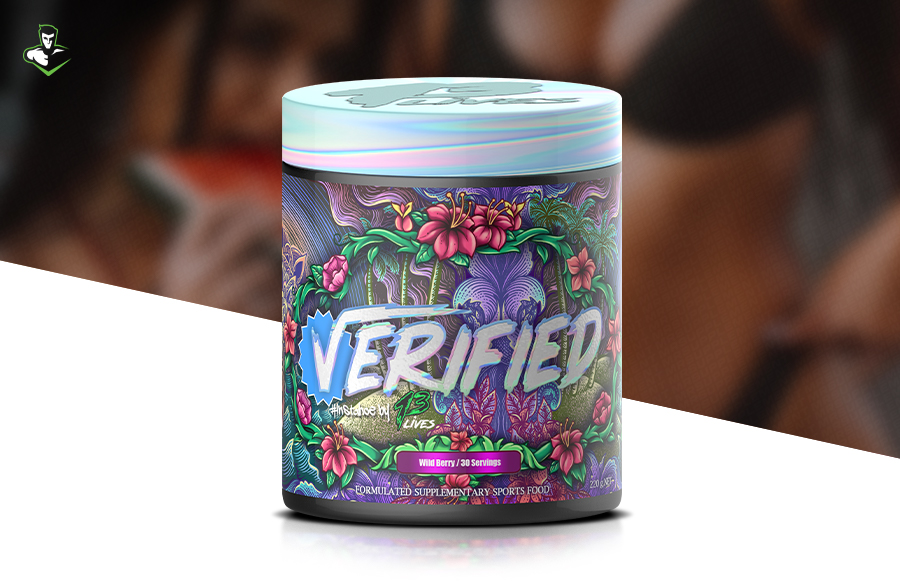 A next-generation weight loss & energy powder which has combined a list of ingredients unlike any before it. Designed to help you smash through those glass ceilings and support your wellness and body composition ideals. Do you still need to sweat your ass off in the gym? Hell yea! But you don't need to do it alone! No, 13Lives has your back and will be there to support your dreams and aspirations.
Who is 13Lives Verified For
Verified is for men and women alike who are targeting weight loss and seeking to reduce body fat composition. It should be taken daily to act as an appetite supressent, energy enhancer & weight management supplement. Verified as with all weight loss products is most effective when combined with a controlled diet & exercise programe.
Verified by 13Lives Benefits
Support calorie synthesis, so you can achieve your display pic worthy shots.
Support energy levels, which may fuel those extra hard days where the workouts and dieting can get hard
Support fitness and wellness ideals with a product that assists with whatever form of exercise you enjoy and lets you continue all day.
Support body composition. When this product is combined with a proper diet, and training schedule they will come together to help you hit your ideal summer glow.
Support Beauty and vitality. Collagen may assist with those parts which need to glow most! We all love having strong hair skin and nails.
Cravings suck. Squash those nasty feelings and help fight that urge
Sweat. The only currency the gym accepts! Help pay your dues.
13 Lives Verified Ingredients
A comprehensive array of new age weight management ingredients are included in Verified. For more information the nutritional panel on this page shall give you all the details.
13Lives Verified Flavours
Verified is available in a range of mouth watering flavours including Cola-Lime, Green Apple, Mango Passionfruit & Wild Berry.
Stimulants & Caffeine
Is it strong? Yes, we'd describe Verified as moderately strong with the inclusion of a number of stimulants including 250mg of Caffeine Anhydrous, English Walnut Extract, Bitter Orange Extract & more. We'd there for recommend first time users begin with a half serve to assess their individual tolerance level.
13 Lives Verified Review
Verified is an excellent new age fat loss supplement designed to work via a number of different synergistic pathways, sure to assist almost anyone seeking to drop fat, lean up get in shape. For our customer reviews of Verified be sure to click the Reviews tab on this page OR for a more comprehensive review written by a qualified Mr Supplement staff member simply click here.
Q&A's
Ask a question about
13 Lives Verified
Reviews

Excellent

Based on reviews collected by
&
Write a review

13 Lives Verified
13 Lives Verified
13 Lives Verified
220g / 30 Serves Wild Berry
This packs punch. With 250mg caffeine I knew I was getting strong but this sent me next dimension. Crazy impressive focus, endurance and overall energy. Flavour was pleasant too, like purple wonka nerds. If you value sleep do not take this in the evening.
Next Page
Contact Us