10 Days of Reduced Sugar Benefits Obese Kids
What happens to the health of obese teenagers if you simply reduce the amount of sugar and fructose in their diet and replace it with starch, while keeping total caloric intake stable? The question tugs at the heart of the long held belief that "all calories are created equal". And it was the precise question explored by researchers from San Francisco in a recent study published in the prestigious journal Obesity1.
There is a growing body of evidence that fructose intake - in and of itself - specifically poses a risk to metabolic health. Fructose most commonly occurs in sugar (or sucrose), a disaccharide of glucose and fructose. But it is also ingested in large part through the use of what is called high fructose corn syrup (HFCS), with sweetened fizzy drinks being the most common source. Therefore to reduce fructose intake, one needs to dramatically reduce the intake of both sugar and HFCS.
Led by Dr. Robert Lustig, a pediatric endocrinologist at the Benioff Children's Hospital of the University of California, San Francisco, researchers took a group of Latino and African-American children with obesity and metabolic syndrome and examined what happened when sugar and fructose were replaced with non-fructose containing carbohydrates such as starch or complex carbohydrates.
Each participants filled in a food frequency questionnaire and were interviewed by dieticians at baseline to determine their average daily caloric intake and macronutrient profile. From this they were also able to extrapolate their habitual intake sugar and fructose. This data was then used to devise a diet which had the same amount of carbohydrates, fat and protein, but with 17% less sugar (i.e. 10.2% of daily calories) and 8% less fructose (i.e. 3.8% of daily calories). Examples of foods that were substituted included various no- or low-sugar added processed foods such as turkey hot dogs, pizza, bean burritos, baked potato chips, and popcorn.
To ensure proper adherence to the diet, each participant was given their 9 day food allotment (in three separate instalments). Food packs were prepared precisely by the Clinical Research Service Bionutrition Core at the University of California, San Francisco. As alluded to above, menus were planned so as to restrict added sugar, while substituting other carbohydrates such as those in fruit, bagels, cereal, pasta, and bread so that the percentage of calories consumed from carbohydrate was consistent with their baseline diet, but total dietary sugar and fructose were reduced to 10% and 4% of total calories respectively.
An array of measures relating to body composition, blood sugar, cholesterol, insulin, triglycerides and liver function were recorded at baseline and 10 days. Even allowing for this very short period of time, there were significant changes in a large number of the metabolic parameters measured as shown below.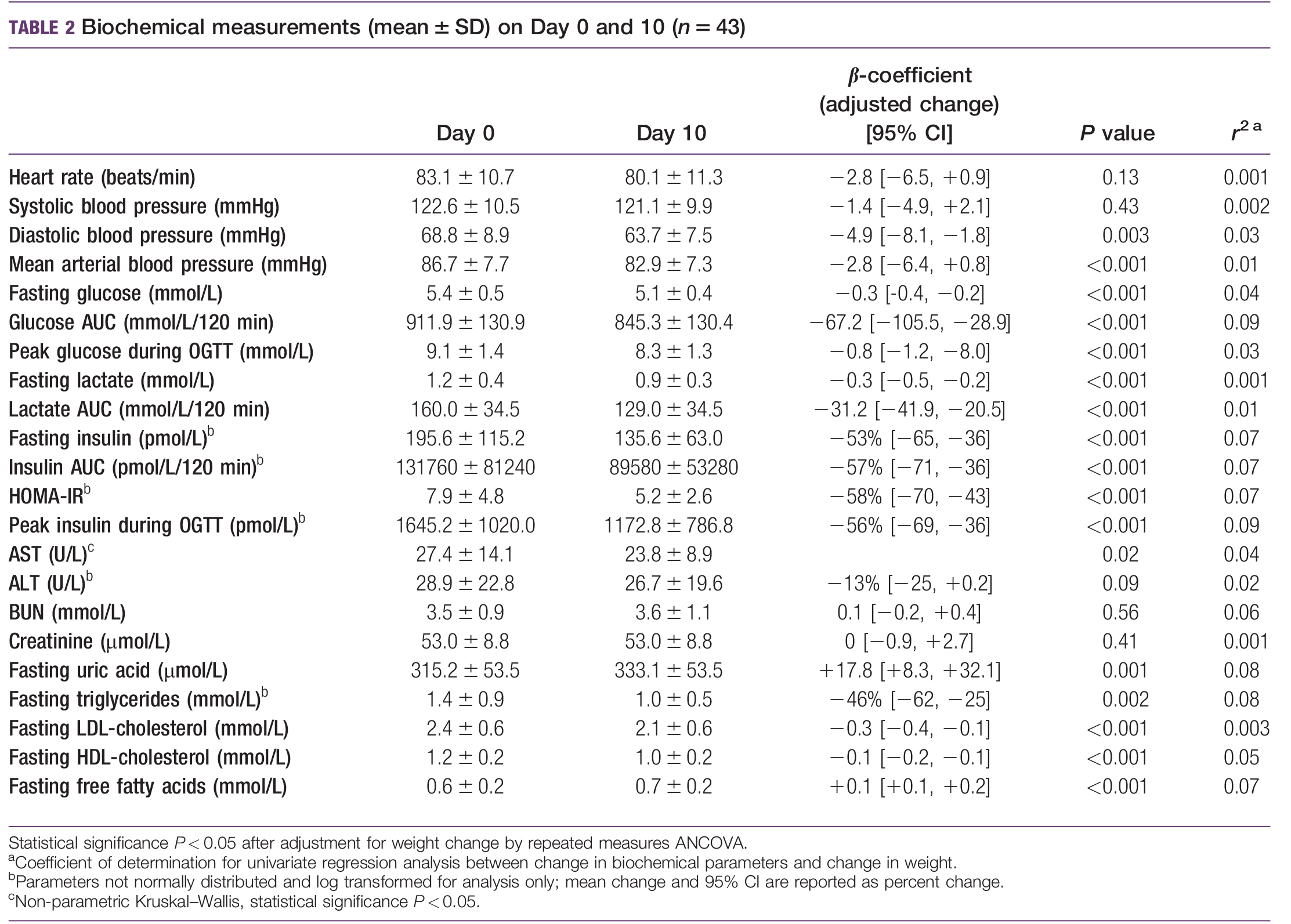 The key take away from the study is that when it comes to carbohydrates, it seems the type conusmed (as opposed to the overall amount) has a significant impact on health. Intake of sugar and fructose seem to do more metabolic harm than non-fructose containing carbohydrates. An earlier study in 2015 found very similar findings in a group of adults2.
Simple measures to reduce the intake of such fructose-containing carbs and replace them with healthier options may make a significant improvement to the health of children at risk of obesity and metabolic syndrome. The practical dietary changes used in this small study are highly feasible for the average parent/child to implement and therefore warrant further study given the massive economic and health burden imposed by childhood obesity.
Lustig RH, et al. Isocaloric fructose restriction and metabolic improvement in children with obesity and metabolic syndrome. Obesity. 2015; 00:00-00.
Schwarz JM, et al. Effect of a high-fructose weight-maintaining diet on lipogenesis and liver fat. J Clin Endocrinol Metab. 2015;100:2434-2442.