MusclePharm Assault provides bodybuilders, powerlifters, fighters and strength athletes with a pre- and intra- workout powerhouse that promotes levels of performance that help you bust through plateaus. Consume assault prior to training, or sip on it during the first part of your workout. From your first serving onward, you may experience a performance-boosting surge.
The athlete's complete pre workout system
Features "Ion-3" patented nitrate technology
Explosive energy without the crash – featuring the new ingredient Purnergy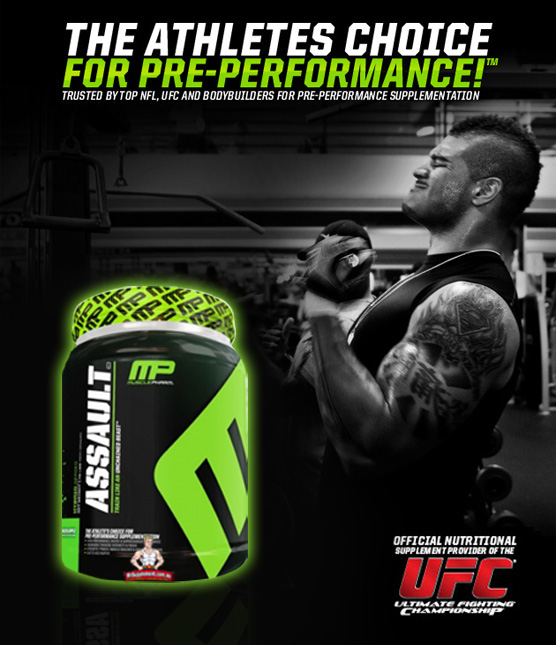 Unlike "stimulant-concentrated" formulas that hit hard and then leave you hanging like you just got mugged in a dark alley…Assault™ is there from start to finish.
Developed at the state of the art MusclePharm® Sports Science Center, Assault™ is the most researched pre-workout product on the market today. As athletes ourselves, we wanted it to do more than pack serious muscle-building power. We set the safety bar sky-high so other athletes know that they're supporting their bodies with a great supplement.
Multiple clinical studies have been published proving that Assault™ increases performance effectively but safely. In the words of our research team, "Assault™ is a safe and effective supplement that can promote increases in strength, muscular endurance, energy, choice reaction, and agility while decreasing fatigue in healthy men."
We are proud to say that Assault™ is one of the only pre-workout products on the market that has certifications from Informed-Choice® as Banned Substance Free.
MusclePharm Assault Reviews
Get a great pump and focus from assault. really power through my workouts.
this is probably the best pre-workout I've used, it really gets me up and going and pumped to train. I also find it completely hilarious and wrong that it's called "Assault". Happy to report I haven't beaten anyone up yet!
Assault was the first pre-workout I've ever used and I've used a couple since then but I always keep coming back to this one because the product works. It's got every good ingredient in it and it helps me pump, strength, energy, endurance, everything. The only bad thing about it is that you do have to mix it in quite a bit of water, but it tastes good, so drinking more of it isn't a bad thing.
Gets me going with a clean energy boost, I'm working hard and recovering fast. I cycle my pre-workouts, and I'm definitely going to use Assault again. You can really tell that MusclePharm put a lot of reserach into their products.
Assault is one of the most complete pre-workouts on the market. All bases are covered and it gives me a real lift. I can really notice the difference in strength, endurance and performance. One of the best on the market.
Awesome pre-workout, it really helped me hammer through those last reps - just as advertised. Also, tastes great!
This is probably my fav pwo. I just love that its got heaps of stuff in it and I like the rounded mental lift it gives me. I find most of the other stim-based pwo I've used are too strong and just send my head spinning and feeling a bit spaced out. I do get a bit of a hit with Assault but nothing bad. Also recovery is better (less sore) probably due mainly to bcaas.
Real great energy without the crash
This turns me into a crazy person in a good way!
Great to drink before & during a workout. Gives u a great burst of energy and power 2 lift more then ever before.
Ex-Jacked user here been trying a bunch of pre workouts to replace jacked. Not the same feeling but this is a solid product that gives me a great buzz. Onto my second tub now, good product and fast delivery.
Gives me a real mental and physical lift, and I'm lifting heavier. Really happy with Assault.
Rate Assault highly. Wicked pumps and intense energy. Find it hard now to train without it because I train so much better with it. Green Apple is my favourite flavour.
Nothing compares to Assault, great formula, can really feel it working.
Yeaah baby! This is the sh#t. Get me amped, get me pumped & gets me MASSIVE!
I would have to say that Assault is one of the better pre workout supplements I've tried. Not as intense as the original Jack3d version but hey who need anything that intense anyway. Still, plenty of juice and it get me hyped for a good workout. Good pumps and no troubles sleeping. 9/10
I really like MP Assault which is now my choice of pre workout. I used to use Mesomorph but find I get better pumps with Assault, the energy is not as intense but is still more than I need. In all honesty I believe Assault has helped me put on a good quality 2kg's in the last few weeks.
Really good. Heaps of focus and I take it around 15 minutes before training. Get my heart rate up and I sweat lots too (no air conditioning in the gym). Some of my best workouts on have been on Assault.
Good! Really like it. Gets me psyched and focused. Lift real heavy when I'm on this gear.
Really good pre workout. Strong without getting me off my face like jacked or one of the dmaa supplements. Can use it every day when I train without needing to keep upping the dose.
I was not disappointed with the quality from this famous sports brand. This is a delicious protein shake, very pleasant to drink, and I feel my performance improved.
amazing product great taste fast and effective results thanks mr supp
Really love this product. T take about 15 mins before a workout and definitely notice a pick up about 20 mins into the workout.
AMAZING!!!!!!!!! Best pre-work out supp I have ever had, green apple flavour tastes sooooo good.
Tastes good:) descent pump with half scoop. Would obviously be better with a full scoop:)
Green Apple flavour tasted good. Gave me heaps of energy and did the job. Liked it!
I'd give it 3 out of 10 for this product doesn't give you a pump and tastes bad
Overall - 9/10, Taste - 8/10, Effectiveness - 9/10, Price - 10/10, Packaging - 8/10. Now for all you ADF and people who get drug tested this is the product for you. Firstly it contains no 'banned substances' and none of that junky/jack crap. So if you play sports or serve your country don't go jack and get the stuff that you can ethically and your body can properly use. You get the tingles, well I do when you take this product. It perks you up and you can get good pumps. But it's not really about the pumps, its about how your body is fairing during work outs. This pre' will get you in the zone, if your a stim freak and the drugs in disguise aren't there to help you; your probably not going to like this one, but if you all natural and rely on your mental attitude for your 'power' then this will take you to great heights. Contains BCAA's for your muscles to use for the big bad ass heavy lifts and creatine to help your muscles get 'swolle'. Furthermore the taste is half decent. You can takes this during your work out like an intra-work out but it's best slammed down before you step foot in the gym. You will get long lasting energy. However, you will won't be doing crazy stuff like repping your max non-stop, unless you want a one way ticket to snap city. But you will work hard, your body will perform, and you won't get locked up and having regular visits to vegimite valley.
Absolute Blast this product, pump me up like crazy
This Product has good Results in giving you the boost for a good work out however if you cant skull it down quick you in trouble the taste is hidious
Worked well good muscle pump! Really gives me that extra go and puts me in a good state of mind!
My favourite pre-workout supplement has to be MUSCLE PHARM ASSAULT. With the most powerful forms of creatine (Creatine HCL/Creapure) and Russia's best kept secret (Suma Root), it's no surprise why. Plus no more need to take 2-3 scoops to get psyched before your workout, with Assault's concentrated dose 0.5-1 scoop does... the job. For the most profound PUMP you've ever felt, buy Muscle Pharm's Assault from Mr Supplement today!
Musclepharm assault or No xplode for sure supersump 250 messes with my stomach to much.
MusclePharm Assault Information
Ask a question about
MusclePharm Assault
If I am going to use it only twice weekly, do I still need a " 6 weeks on & 2 weeks off "" regimen ?
It is always recommended to cycle pre workouts, even if you use it once a week.
it says on your website that you can take creatine as well as assult but assult already incudes 5g of creatine so would it be bad if i take 5g of monohydrate creatine as well as assult?
The new version of Assault actually no longer contains 5 g of creatine. It still does contain creatine, but in an undisclosed amount. For creatine to be effective it needs to be taken everyday (including non training days). A possible way to use creatine monohydrate is to use 2.5 g on training days (on top of the Assault), and a full 5 g on nontraining days.
Is 6 weeks on and 2 weeks off a good cycle for Assualt (taking it 5 times a week), or should I take more time off it?
Yes, a 6 on 2 off cycle would be suitable for Assault.
Is it ok to take the assault with creatine and glutamine?
Yes, absolutely. There is no harm in stacking those products together.
Does assault contain any of the ingredients listed on the sports 2014 Australian Prohibited Substances list?
To the best of our knowledge, there are no ingredients in Assault that is on the Australian Prohibited Substances list.
What is Assault?
Assault is a revolutionary Pre-Workout Matrix that meets hardcore athlete's needs. Assault uses many ingredients for muscle mass, strength, endurance and overall power.
How should I take Assault?
Take Assault 1 scoop 15-30 minutes prior to workout. We suggest you do not take on an empty stomach, and also drink at minimum of 1 gallon of water per day.
How long will the effect or pump last!?
Customers have experienced pumps that last as long as 2-3 hours after a workout. These pumps will last the entire time while on Assault.
Will Assault help me build muscle mass also?
Our highly advanced combination of Creatines and Nitric Oxide proprietary blends will help allow you to train harder, longer, ensuring those extra needed reps to build muscle mass and strength.
Are you sure this isn't just another knock off NO product that is already out there?
Assault is the only product on the market to combine entire formulas into one product giving you the new revolution in Pre-Workout Products. Assault has the highest dosed ingredient ratio guaranteeing you proper dosage per ingredient for maximum results.