MusclePharm Assault provides bodybuilders, powerlifters, fighters and strength athletes with a pre- and intra- workout powerhouse that promotes levels of performance that help you bust through plateaus. Consume assault prior to training, or sip on it during the first part of your workout. From your first serving onward, you may experience a performance-boosting surge.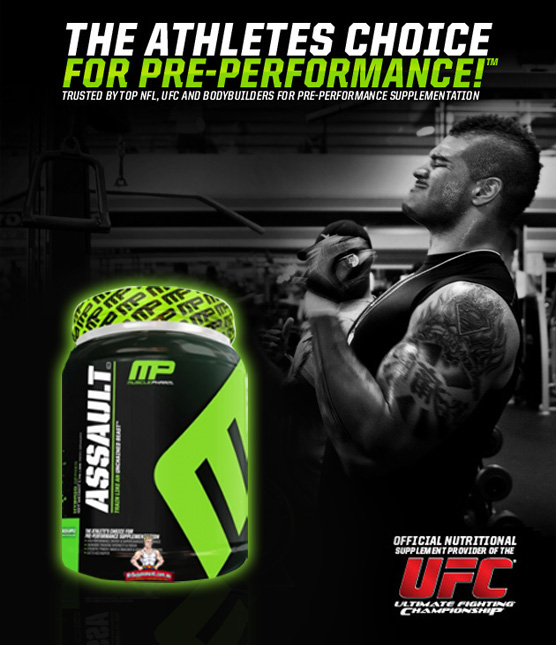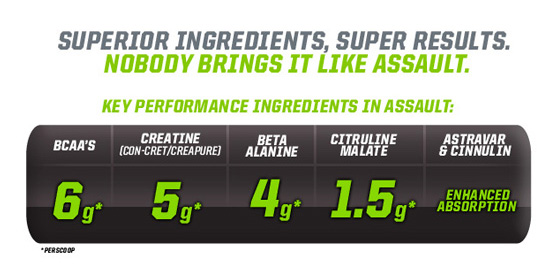 Con-Crete: Nobody else offers this patented version of creatine in a pre-workout product, which is clinically proven to be superior than other forms.
Astragin: A patented, clinically-studied ginseng extract, Astragin lowers blood glucose levels, increases creatine and arganine absorption, increases glucose uptake and ATP production.
Cinnulin: Like Astragin, Cinnulin heightens ABSORPTION, so the creatine, arginine, vitamins and other proven ingredients in Assault launch directly into your muscles.
(A sweet bonus is that these two workhorse substances also burn body fat while adding muscle, for developing a leaner, fuller physique.)
BCAAs: Unlike "concentrated" formulas that hit hard, then leave you hanging like you just got mugged in a dark alley…Assault is there from start to finish. The BCAA in the formula is a patent-pending 3:1:2 ratio which is higher in leucine and valine than isoleucine. The addition of these amino acids promotes stronger recovery and increases lean muscle mass.
NO 1,3-Dimethylamine: Forget that quick, empty high. A crash is sure to follow. Athletes need a complete, nutrient-packed formula. Not a stimulant like 1,3-Dim.
The Complete Nutrient Package: 4g beta alanine, 5g of Con-Crete & Creapure creatine, 1.5g citrulline malate, 6g BCAA, carbohydrates, vitamins, and of course our special High Performance Energy & Intensity Amplifier blend - All of this. In every scoop.

MusclePharm Assault is the most researched pre-workout on the market. Developed at the state art MusclePharm Sports Science Center as athletes ourselves, we wanted it to do more than pack serious muscle-building power. We set the safety bar sky-high so other athletes know that they're feeding their bodies the best. We are proud to say that Assault is the only Pre-workout product on the market that has certifications from both NSF and Informed Choice as Banned Substance Free. So with the addition of Astragin and Cinnulin PF to Assault, you can expect better nutrient delivery for the glucose polymers, creatine, arginine and amino acids. This will translate into better muscle pumps, a more anabolic environment inside the body, increased ATP production which means more energy in the muscle! By dropping your blood sugar with the inclusion of Astragin you will notice a leaner sharper physique by using Assault. There is nothing missing from this new formula, and the ingredients are all paired together to work synergistically together.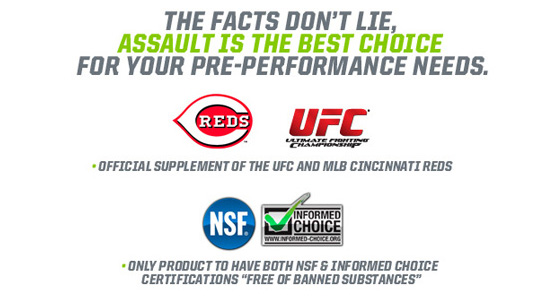 Musclepharm Assault
Serving Size
Servings Per Container
Nutritional Information
Per Serve
Vitamin B6 (Pyridoxine HCL)
14mg
Vitamin B12 (Methylcobalamin)
85mcg
Calcium (from Phosphate and Silicate)
247mg
Assault Proprietary Blend
23g
Anti-Fatigue Adaption Matrix
- CarnoSyn® Beta-Alanine
- Citrulline Malate
- (DMG) Dimethylglycine
- Rhodiola Rosea (Root) Extract 3% Rosavins.
Strength Domination & Recovery Matrix
- Creapure(Creatine Monohydrate)
- Con-Cret® Creatine HCL (100% Concentrated Creatine)
High Performance Energy & Intensity Amplifier
- Choline Bitartrate
- Taurine
- L-Tyrosine
- Medium Chain Triglycerides (MCT)
- Caffeine Anhydrous
- Papain 1000
- Pyroglutamic Acid
- L-Aspartic Acid
- Camiella sinensis (White Tea Leaf Powder)
- Pyridoxine HCL
- Methylcobalamin
3:1:2 BCAA Ratio (Patent Pending)
- BCAA (L-Leucine, L-Valine, L-Isoleucine)
Cell Volumizer
- L-Glycine
- L-Arginine Blend (L-Arginine AKG 2:1, Di Arginine Malate, L-Argnine-HCL)
Cellular Transport Amplifier
- Astragin (Notoginseng Root Ext, Astragalus Root Ext.) Cinnulin PF (Cinnamomum burmanii extract standardized to Type-A polymers)
Muscle Hydration & Electrolyte Blend
- L-Glutamine
- Phosphorus
- Sodium
- Potassium
Musclepharm Assault Ingredients
Glucose Polymers, Natural and Artificial Flavors, Calcium Silicate, Citric Acid, Sucralose, Acesulfame Potassium, Salt, Calcium Phosphate, Magnesium Oxide, Potassium Chloride, FD&C Red #40
Musclepharm Assault Directions
Mix 1/2 to 1 scoop of Assault in 414-473mL of water 20-30 minutes before training. For optimal results, drink a minimum of 1 gallon of water daily. For Hardcore Training Sessions: Use 1 scoop of Assault in 354-473mL of water 20-30 minutes before training.For Moderate-Intensity Training: Use 1/2 scoop of Assault in 236-354mL of water 20-30 minutes before training.
Keep in cool dry place out of direct sunlight . Store below 30°C
This product is not a sole source of nutrition and should be used in conjunction with an appropriate physical training or exercise programme. Not suitable for children under 15 years of age or pregnant women. Should only be used under medical or dietetic supervision.
General Product Warning
Users should seek medical advice prior to beginning any supplementation program. This especially applies to individuals taking prescription medication or those with pre-existing medical conditions. Always read the label prior to consuming any supplement, always follow the manufacturer's directions & never exceed the recommended dose. In the event of experiencing any unwanted effects discontinue use immediately & seek medical advice if symptoms persist. Keep out of reach of children.
Copyright
Copyright MrSupplement Marketing Pty Ltd 2013. This website, and the images, text and tables on it are subject to copyright under the Australian Copyright Act 1968 (Cth), as well as under the copyright law of other countries by virtue of worldwide treaties, belonging to MrSupplement Marketing Pty Limited and to its suppliers & or product manufacturers. Reasonable portions of this website may be printed out solely insofar as is necessary to order products from the MrSupplement.com.au web site. Any other reproduction or communication in whole or in part is unauthorised and may result in legal proceedings being taken to protect the intellectual property rights of MrSupplement Marketing Pty Limited and/or suppliers & product manufacturers.
MusclePharm Assault Reviews
Rate Assault highly. Wicked pumps and intense energy. Find it hard now to train without it because I train so much better with it. Green Apple is my favourite flavour.
Yeaah baby! This is the sh#t. Get me amped, get me pumped & gets me MASSIVE!
I would have to say that Assault is one of the better pre workout supplements I've tried. Not as intense as the original Jack3d version but hey who need anything that intense anyway. Still, plenty of juice and it get me hyped for a good workout. Good pumps and no troubles sleeping. 9/10
I really like MP Assault which is now my choice of pre workout. I used to use Mesomorph but find I get better pumps with Assault, the energy is not as intense but is still more than I need. In all honesty I believe Assault has helped me put on a good quality 2kg's in the last few weeks.
Really good. Heaps of focus and I take it around 15 minutes before training. Get my heart rate up and I sweat lots too (no air conditioning in the gym). Some of my best workouts on have been on Assault.
Good! Really like it. Gets me psyched and focused. Lift real heavy when I'm on this gear.
Really good pre workout. Strong without getting me off my face like jacked or one of the dmaa supplements. Can use it every day when I train without needing to keep upping the dose.
amazing product great taste fast and effective results thanks mr supp
Really love this product. T take about 15 mins before a workout and definitely notice a pick up about 20 mins into the workout.
AMAZING!!!!!!!!! Best pre-work out supp I have ever had, green apple flavour tastes sooooo good.
Tastes good:) descent pump with half scoop. Would obviously be better with a full scoop:)
Green Apple flavour tasted good. Gave me heaps of energy and did the job. Liked it!
I'd give it 3 out of 10 for this product doesn't give you a pump and tastes bad
Overall - 9/10, Taste - 8/10, Effectiveness - 9/10, Price - 10/10, Packaging - 8/10. Now for all you ADF and people who get drug tested this is the product for you. Firstly it contains no 'banned substances' and none of that junky/jack crap. So if you play sports or serve your country don't go jack and get the stuff that you can ethically and your body can properly use. You get the tingles, well I do when you take this product. It perks you up and you can get good pumps. But it's not really about the pumps, its about how your body is fairing during work outs. This pre' will get you in the zone, if your a stim freak and the drugs in disguise aren't there to help you; your probably not going to like this one, but if you all natural and rely on your mental attitude for your 'power' then this will take you to great heights. Contains BCAA's for your muscles to use for the big bad ass heavy lifts and creatine to help your muscles get 'swolle'. Furthermore the taste is half decent. You can takes this during your work out like an intra-work out but it's best slammed down before you step foot in the gym. You will get long lasting energy. However, you will won't be doing crazy stuff like repping your max non-stop, unless you want a one way ticket to snap city. But you will work hard, your body will perform, and you won't get locked up and having regular visits to vegimite valley.
Absolute Blast this product, pump me up like crazy
This Product has good Results in giving you the boost for a good work out however if you cant skull it down quick you in trouble the taste is hidious
Worked well good muscle pump! Really gives me that extra go and puts me in a good state of mind!
My favourite pre-workout supplement has to be MUSCLE PHARM ASSAULT. With the most powerful forms of creatine (Creatine HCL/Creapure) and Russia's best kept secret (Suma Root), it's no surprise why. Plus no more need to take 2-3 scoops to get psyched before your workout, with Assault's concentrated dose 0.5-1 scoop does... the job. For the most profound PUMP you've ever felt, buy Muscle Pharm's Assault from Mr Supplement today!
Musclepharm assault or No xplode for sure supersump 250 messes with my stomach to much.
MusclePharm Assault Information
Ask a question about
MusclePharm Assault
Are you sure this isn't just another knock off NO product that is already out there?
Assault is the only product on the market to combine entire formulas into one product giving you the new revolution in Pre-Workout Products. Assault has the highest dosed ingredient ratio guaranteeing you proper dosage per ingredient for maximum results.
Will Assault help me build muscle mass also?
Our highly advanced combination of Creatines and Nitric Oxide proprietary blends will help allow you to train harder, longer, ensuring those extra needed reps to build muscle mass and strength.
How long will the effect or pump last!?
Customers have experienced pumps that last as long as 2-3 hours after a workout. These pumps will last the entire time while on Assault.
How should I take Assault?
Take Assault 1 scoop 15-30 minutes prior to workout. We suggest you do not take on an empty stomach, and also drink at minimum of 1 gallon of water per day.
What is Assault?
Assault is a revolutionary Pre-Workout Matrix that meets hardcore athlete's needs. Assault uses many ingredients for muscle mass, strength, endurance and overall power.