Infinite Labs Dagger
Infinite Labs Daager -
Infinite Labs
http://cdn.mrsupplement.com.au/resources/imgs/products/infinite-labs-dagger.1350863057650.png
Infinite Labs Dagger
Infinite Labs
Dagger - is a unique hybrid formula scientifically designed to promote testosterone levels through Infinite Labs advanced anabolic matrix. The testosterone-boosting components presented in Dagger will help turn any average training session into a high-powered, explosive workout. Our team at Infinite Labs has developed four distinct, performance-supporting matrixs to promote optimal training results for the athlete looking to take their workouts to the next level.
MrSupplement Testimonials
Fast delivery! With great range of choices. - Tyron J, Townsville
Other great products by Infinite Labs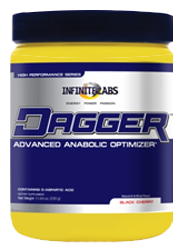 Infinite Labs Dagger
Serving Size
Servings Per Container
Nutritional Information
Per Serve
Carbohydrates - Total
2.2g
Vitamin D3 (Cholecalciferol)
3300IU
Vitamin B2 (Riboflavin)
2mg
Vitamin B3 (Niacinamide)
20mg
Vitamin B6 (Pyridoxine HCL)
2mg
Vitamin B12 (Cyancobalamin)
50mcg
D-Aspartic Acid, Fenugreek Seed Powder, L-Carnitine Tartrate, Tribulus Terrestris Extract (Standardized To 45% Saponins), Glycocarn (Glycine Propionyl L-Carnitine Hydrochloride), Japanese Knotweed (Polygonum Cuspidatum) Root, DIM (Diindolylmethane), Chrysin HCL, D-Aspartic Acid Calcium Chelate, Sodium D-Aspartic Acid, Calcium D-Glucarate
Creatine Monohydrate, Creatine HCL, Creatine MagnaPower As Magnesium Creatine Chelate
Malic Acid, Acetyl-L-Tyrosine, Glucuronolactone, L-Tyrosine, Siberian Ginseng (Eleutherococcus Senticosus Root) 4:1, Maca Root Powder, Pygeum Africanum (Bark), Rhodiola Rosea Extract (3% Salidrosides), Bioperine®, Folic Acid.
Natural Flavoring, Dextrose, Sucralose, And Acesulfame K.
Infinite Labs Dagger Directions
On Workout days, take one serving (one scoop) with 178 to 237 mL of water on an empty stomach approximately 30 minutes prior to training. Do not exceed one scoop before training or in a 24 hour period. On Non-Training days, take one serving (one scoop) with 178 to 237mL of water. For best results take Dagger on an empty stomach. To avoid sleeplessness do not take within 4 hours of bedtime.
Store in a cool dry place out of direct sunlight under 30°C, Keep out of reach of children.
Do not exceed recommended dose. Consult your physician prior to using this product if you are pregnant, nursing, taking medication, under 18 years of age or have a medical condition including but not limited to high or low blood pressure, cardiac arrhythmia, stroke, heart, liver, kidney or thyroid disease, seizure disorder, psychiatric disease, diabetes, difficulty urinating due to prostate enlargement or if you are taking an MAO inhibitor (MAOI). Discontinue use immediately if you experience any adverse reaction and consult your physician. Do not use if tamper resistant seal is broken. Keep out of reach of children. Store in a cool dry place.
The information published on this nutritional panel has been done with all diligence and care to best ensure accuracy. Users should always however as a matter of safety and caution review and understand the physical product label prior to the opening or consuming of any product. If in doubt about any information please always refer to the manufacturers product label.
Copyright MrSupplement Marketing Pty Ltd 2012. This website, and the images, text and tables on it are subject to copyright under the Australian Copyright Act 1968 (Cth), as well as under the copyright law of other countries by virtue of worldwide treaties, belonging to MrSupplement Marketing Pty Limited and to its suppliers & or product manufacturers. Reasonable portions of this website may be printed out solely insofar as is necessary to order products from MrSupplement.com.au Pty Limited. Any other reproduction or communication in whole or in part is unauthorised and may result in legal proceedings being taken to protect the the intellectual property rights of MrSupplement Marketing Pty Limited and/or suppliers & product manufacturers.