Cellucor P6 Extreme
Cellucor P6 Extreme is unavailable for purchase from MrSupplement.com.au. For a great alternative testosterone supplement we are recommending our customers
Cellucor
http://cdn.mrsupplement.com.au/resources/imgs/products/cellucor-p6-extreme.1334277593188.png
Cellucor P6 Extreme

Cellucor P6 Extreme is unavailable for purchase from MrSupplement.com.au. For a great alternative testosterone supplement we are recommending our customers view Elemental Massive Muscle Fuel 2.0
------------------------------------------------------------------------------------------------------------------------
Cellucor
P6 Extreme is a food type dietary supplement which may assist to support testosterone & estrogen levels within the normal range in healthy individuals. P6 Extreme is commonly used by bodybuilders & strength athletes who are seeking to support their performance & results. For best results always combine with a suitable diet & exercise program.
MrSupplement Testimonials
Next day delivery. Awesome! - David G, Melbourne, VIC
Cellucor P6 Extreme Reviews
22nd April 2010
Review by
Zac S, Alexandria Sydney NSW
Need a boost to your lifting? Look no further than this product. Without it, your not gonna get the muscle gains you deserve.
12th April 2010
Review by
Md, Auburn Sydney NSW
If you know about the almighty testosterone, you'll know that it is not only is the powerhouse behind muscle growth, but also has some negative side effects if taken in excess. Well look no further than this product – as it's formulated to not only increase your free testosterone, but also minimise the negative side effects of testosterone. Since taking this product, I've noticed a marked increase in my muscle size and definition. With other test supplements I've experienced puffiness around the nipple area, but this unique formulation overcomes this. Thanks MrSupplement this is one great supplement that I will be ordering again from you.
Other great products by Cellucor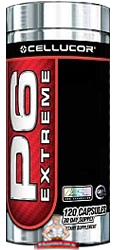 Cellucor P6 Extreme
Serving Size
Servings Per Container
Formulated Supplementary Sports Food
2 Cap
60
Nutritional Information
Per Serve
Ovine Placenta powder, Black Cohosh Root extract, Agaricus bisporus extract, Beta-Sitosterol, Wild Yam Root extract (95% Diosgenin), Stinging Nettle Root extract, Myricetin (from Bayberry Bark extract), Sclareolide (from Salvia sclarea whole plant extract)
Tribulus alatus extract
(aerial parts and berries)
250mg
Capsule Shell (Gelatin, Titanium Dioxide, FD&C Red #40 and FD&C Blue #1), Microcrystalline Cellulose, Magnesium Stearate and Silica.
Cellucor P6 Extreme Directions
As a dietary food type supplement for adults, use for up to 8 weeks then discontinue use for 4 weeks before beginning again.
Morning: Take 2 capsules with or with out food,
Evening/Before Bed: Take 2 capsules with or without food.
Keep in cool dry place out of direct sunlight. Store below 30°C.
This product is not a sole source of nutrition and should be used in conjunction with an appropriate physical training or exercise programme. Not suitable for children under 18 years of age or pregnant women. Should only be used under medical or dietetic supervision. Always read label prior to use.
The information published on this nutritional panel has been done with all diligence and care to best ensure accuracy. Users should always however as a matter of safety and caution review and understand the physical product label prior to the opening or consuming of any product. If in doubt about any information please always refer to the manufacturers product label.
Copyright MrSupplement Marketing Pty Ltd 2012. This website, and the images, text and tables on it are subject to copyright under the Australian Copyright Act 1968 (Cth), as well as under the copyright law of other countries by virtue of worldwide treaties, belonging to MrSupplement Marketing Pty Limited and to its suppliers & or product manufacturers. Reasonable portions of this website may be printed out solely insofar as is necessary to order products from MrSupplement.com.au Pty Limited. Any other reproduction or communication in whole or in part is unauthorised and may result in legal proceedings being taken to protect the intellectual property rights of MrSupplement Marketing Pty Limited and/or suppliers & product manufacturers.