Black Widow Hydroxy Whey is a fat loss protein perfect for bodybuilders and athletes looking to shed some unwanted fat, while maintaining muscle mass for the defined and shredded look. The proteins in Hydroxy Whey are considered to have the highest biological value of all protein sources, providing the ideal combination and concentration of amino acids for muscle development and repair. In addition are added fat burning and metabolising ingredients to help speed up metabolism and support fat loss.
Black Widow Hydroxy Whey Benefits
High protein, low fat, low carb formula to support weight loss and maintain muscle mass
High in BCAAs for rapid muscle recovery and growth
Phaseulus vulgaris for carb blocking
Brindle berry to help with appetite suppression
Chromium picolinate to balance blood sugar levels
L-Carnitine to help convert fat into energy
No stimulants – suitable for any time of the day
Ideal for use before or after exercise
Easy mixing & great taste
Black Widow Hydroxy Whey
Serving Size
Formulated Supplementary
Sports Food
40g
Nutrition Information
Per Serve
Per 100g
Energy
686kJ
164Cal
1714kJ
410Cal
Carbohydrate Total
2.9g
7.3g
- Carbohydrate Sugar
1.6g
4.1g
Black Widow Hydroxy Whey Ingredients
Hydroxy Whey Protein Blend (94%) (Whey Protein Concentrate (WPC), Ionised Whey Protein Isolate (WPI), Hydrolysed Whey Protein Isolate (WPI), Flavours, Cocoa, Brindle Berry, L-Carnitine, Phaseolamin, Amino Acids (L-Gutamine, Taurine), Sweetener (Sucralose)
Black Widow Hydroxy Whey Directions
In a shaker or blender, mix 40g with 200-250mL of water or milk.
Store in a cool dry place out of direct sunlight under 30°C, Keep out of reach of children
This product is not a sole source of nutrition and should be used in conjunction with an appropriate physical training or exercise programme. Not suitable for children under 15 years of age or pregnant women. Should only be used under medical or dietetic supervision.
General Product Warning
Users should seek medical advice prior to beginning any supplementation program. This especially applies to individuals taking prescription medication or those with pre-existing medical conditions. Always read the label prior to consuming any supplement, always follow the manufacturer's directions & never exceed the recommended dose. In the event of experiencing any unwanted effects discontinue use immediately & seek medical advice if symptoms persist. Keep out of reach of children.
Copyright
Copyright MrSupplement Marketing Pty Ltd 2013. This website, and the images, text and tables on it are subject to copyright under the Australian Copyright Act 1968 (Cth), as well as under the copyright law of other countries by virtue of worldwide treaties, belonging to MrSupplement Marketing Pty Limited and to its suppliers & or product manufacturers. Reasonable portions of this website may be printed out solely insofar as is necessary to order products from the MrSupplement.com.au web site. Any other reproduction or communication in whole or in part is unauthorised and may result in legal proceedings being taken to protect the intellectual property rights of MrSupplement Marketing Pty Limited and/or suppliers & product manufacturers.
Black Widow Hydroxy Whey Reviews
Hydroxywhey is definitely the best value for money fat loss protein powder ever. It tastes good, mixes well, and best of all, it works well. I've been training pretty hard with this stuff for the last few months and have lost a real solid chunk of fat. I love it.
Being on a strict diet and limited budget, the numbers game is always hard. Black Widow's Hydroxy-Whey per serve provides 25% (31g) more protein than most other proteins per serve (approx 24g), and when taking it three times a day to meet gram per pound, protein to body weight, this amounts to a big saving on other protein sources and meals. For the first time in 5 years of training I have maintained a controlled six-pack for a long period of time. Overall the taste is great, it mixes easy and is cost effective per serve. This is what I use and recommend for anyone trying to cut water and body fat while improving muscularity.
I was skeptical about how this protein might taste, compared to more expensive hydroxy-based proteins. It tastes great though! The vanilla flavour mixes really well, and tastes very creamy, even when mixed with water! along with a heavy weights and cardio, i looked and felt much leaner over the 4weeks this lasted me.
Black Widow Hydroxy Whey is one of the best tasting shakes I have ever tasted. It has a very high protein content which meets my daily protein requirements. It is low in both carbs and fats making it great to cut away any unwanted kilos. Highly reccomemded to all!
Black Widow Hydroxy Whey Information
Ask a question about
Black Widow Hydroxy Whey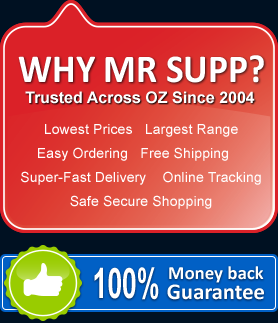 Ordered my products at 11am. 9am next day at my doorstep. Very fast shipping and amazing service. Highly Recommended.
Read more testimonials >>
© Copyright 2014 All Rights Reserved MrSupplement