Testosterone boosters have experienced a surge in popularity over 2015 and are now a crucial, natural addition to any serious trainer's stack. As a result of their resurgence, the test booster category has experienced a couple of shifts over the past year and should maintain momentum in 2016 with a couple more new releases scheduled throughout the year. To help you navigate through the maze of test boosters on the market, we've put together a top 10 list of the best test boosters you should be trying throughout 2016.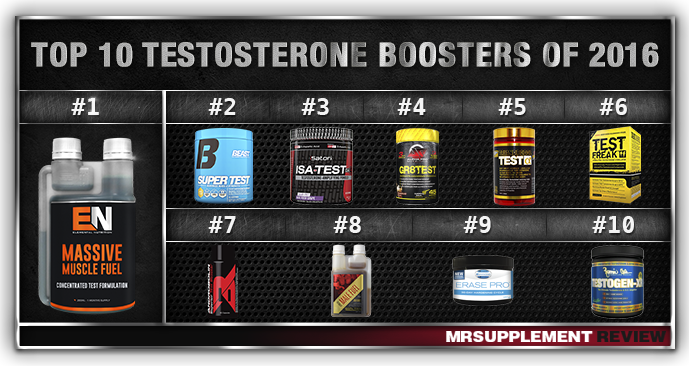 #1. Elemental Nutrition Massive Muscle Fuel
Massive Muscle Fuel 2.0 remains as one of the most popular and effective test boosters on the market. The original was a game changing formula. It was one of the first liquid based test boosters on the market and one that understood that the key to a successful test booster was one that wasn't afraid to dose their ingredients well. The current Massive Muscle Fuel 2.0 maintains and builds upon that legacy with the highest dose of protodioscin on the market of any supplement. Along with this megadose of the active ingredient of tribulus, each serving of Massive Muscle Fuel also packs in a range of antiestrogen and anti-DHT support ingredients along with nitric oxide boosters. What you get is a solid and powerful test booster that remains our top test booster of 2016.

#2. Beast Super Test
Beast Super Test may be losing out in favour of shinier, new formulas, but it remains one of the most comprehensive test boosters on the market. Each serving packs in a testosterone boosting complex, an estrogen control complex, a DHT control complex as well as liver and nitric oxide support ingredients. It's really not the best tasting test booster on the market, but some of the most effective products never are. Super Test is still a top of the range test booster in 2016 and should remain for a couple more years to come.
#3. Isatori Isa-Test DA3
Isatori's Isa-Test DA3 is a relatively new supplement, but was one of the more exciting releases in 2015. Its formula is research driven and focuses on a limited range of excellent ingredients such as D Aspartic Acid, longjack or longifolia, horny goat weed and fenugreek. Although Isa-Test DA3 isn't one of the more popular test boosters, but it contains one of the more powerful formulas on the market and if you want results, then you need to get yourself a tub or two.

#4. Alpha Pro Nutrition GR8TEST
Another relative newcomer onto the market, GR8TEST from Alpha Pro Nutrition is another solid entry into this list and signals the rise of test boosters that focus on well dosed, well researched ingredients. GR8TEST contains a standout formula with longjack, vitamin D, DIM and L-carnitine L-tartrate along with many other ingredients to help boost testosterone levels, limit estrogen rises and support nitric oxide levels in the body. Alpha Pro Nutrition offers a solid choice and one of the best test boosters of the year.

#5. BSc Triandrobol Test
BSc Body Science's Triandrobol has gone through another revamp towards the end of 2015, but still remains one of the companies most celebrated supplements to date. Although the name has changed slightly from Triandrobol Testo Plus to simply Triandrobol Test, the formula remains as one of the best using some of the most popular and recognised test boosting ingredients. Backed by one of Australia's most popular and reputable companies, BSc Triandrobol Test is the supplement for you if you want bigger gains, more energy and more muscle.

#6. PharmaFreak Test Freak   
Pharmafreak's Test Freak has been on the scene for many years now and is still one of the more popular capsule based test boosters. It's a convenient and well rounded formula that contains both testosterone boosting and estrogen controlling ingredients. Pharmafreak supplements have always been fan favourites and Test Freak is no different and is the perfect product for trainers who want to steer clear of more shakes.

#7. Body Ripped Androbolin Max
Body Ripped may not be the most well known Australian supplement brand on the market, but their supplements are honestly some of the best around. They like to push the threshold when it comes to dosing and aren't afraid to push up prices in favour of creating a top of the line item. Androbolin Max is their signature test booster and utilises a similar, simple formula as competitor Triandrobol. The Body Ripped Androbolin Max stacks well with their HGH + ZMA formula for a powerful hormone support stack.

#8. Gen-Tec Ultimate Male Fuel  
Similar to Elemental Nutrition's Massive Muscle Fuel, Gen-Tec's Ultimate Male Fuel is also a liquid supplement that focuses on tribulus, horny goat weed and anti-estrogen compounds in their formula. Although not as strongly dosed, the Ultimate Male Fuel is still a formidable test booster from a well known Australian brand and has a deserved place in our top 10.
#9. PES Erase Pro
PES Erase Pro is a super simple supplement with only 5 active ingredients, but it works wonders. Erase Pro is marketed as a PCT (post cycle therapy) supplement that aims to maintain high test levels and decreased estrogen levels to keep you looking lean and feeling strong. Combining the tried and true D aspartic acid along with agmatine and more unique ingredients such as boerhaavia diffusa and uncaria tomentosa extract, PES Erase Pro is a well thought out formula and one that stacks well with other test boosters for maximum effect.

#10. Ronnie Coleman Testogen XR
From legendary bodybuilder Ronnie Coleman, Testogen XR is one of his signature supplements and remains one of the most popular of the range. Testogen XR is actually two supplements in one, mixing together pre workout and testosterone boosting ingredients. The nitric oxide boosting compounds present in Testogen XR actually help to support the delivery and absorption of the test boosting ingredients, and it is this synergistic action which propels the supplement to the final spot on our top 10 list.


Notable Testosterone Boosters of 2016
With so many more testosterone support supplements on the market, some excellent ones did just miss out on making the list including:
The older you are, the more important testosterone boosters become and picking the right one will make a dramatic impact on your results and your gains. Our extensive list of some of the best test boosters on the market will ensure you achieve your best body yet in 2016.