Top 10 Best Pre Workout Supplements of 2014 - Review

You can't deny the popularity of this supplement category. In the last decade or so, pre workout supplements have grown both in number and in reputation thanks to demand from consumers and a growing trend towards finding the elusive key to unlocking better workout and training performance. Protein powders, multivitamins and omega 3/essential fatty acid supplements are always going to be the staples, but if you want that extra boost to your workouts; more strength, more power, more stamina, more speed and better focus and attention, then pre workout supplements may just be what you're after. With literally hundreds of pre workout varieties available in 2014 and plenty more to be released, how do you go about choosing the best one for you? Below is the definitive top 10 list of the best pre workout supplements on the market today:
Elemental Nutrition are the only Australian company who are making a decent stimulant free pre workout; something we all need, especially when we're cycling through our concentrated pre-workouts. Packed full of well dosed ingredients including beta-alanine, citrulline, creatine and arginine, Elemental Nutrition Pre-Workout is your perfect fix during your pre-workout off cycle.
An oldie but a goodie. Gaspari Nutrition's Superpump series has always served users well with decent pumps, energy, strength and power. The latest revision Superpump 3.0 may not be the strongest pre-workout around, but it's reliable and is a great introduction to the world of pre-workouts for new users.
Another great supplement for anyone who's new to pre-workouts. A decent hit of energy and strength, Myo Blitz is not the best tasting pre-workout, but if all you're looking for in a pre-workout is taste, you'd be better off having cordial. Ronnie Coleman Myo Blitz is a great product on its own, but its effects are multiplied dramatically when combined with Testogen-XR.
BPM Labs are an up and coming supplement company who have made a bit of a name for themselves with their fat burner LipoDrive (now known as LipoRush) as well as their pre-workout The One. The One did not joke around, it was a strong supplement with intense effects. This pre-workout was great for those wanting boundless amounts of energy but also offers a decent pump. Unfortunately, The One was taken off shelves early in 2014 and will eventually be replaced by The Pump.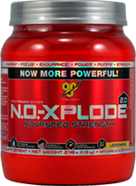 BSN's NO Xplode has been around for ages and went through a reformulation late 2012. Still a decent product, NO Xplode 2.0 offers plenty of ingredients to help with focus, concentration, attention, pump, performance and hydration. Best mixed with a bit more water, NO Xplode 2.0 is a solid pre-workout which will get you the results you want.
Still one of the most popular pre workouts around, Assault has recently been reformulated to a smaller, more compact version of the original. However it still packs a serious punch and offers one of the most well rounded approaches to pre-workout supplementation. Whatever your Archilles heel is in the gym, MusclePharm Assault will most likely help you get through it and have you finishing your workouts faster and stronger.
Grenade 50. Calibre is MusclePharm's Assault on steroids. Not as delicious as Assault, Grenade 50. Calibre will power you through your workouts with an unparalleled intensity. This is a perfect supplement for those who prefer short and intense sessions. Be aware that this supplement is extremely strong so start off with the minimum dose, even if you are used to pre workouts.
Mesomorph has been one of the most popular concentrated pre workout formulas of all time and was up there with USPLabs Jack3d and BPI 1MR back in its hey day. The massive re-haul and reformulation of concentrated pre-workouts in 2012 resulted in plenty of poorer versions of the originals, but APS were still able to maintain most of the original Mesomorph's effectiveness and intensity. One of the better tasting pre-workouts, Mesomorph 2.0 is well dosed, strong and deserves its top 3 placement in our list.
Mr Hyde is a pre-workout that is gaining in momentum. A severely underrated concentrated pre workout, Mr Hyde is what a good pre workout should be; a good high peak of energy and performance with a smooth and gradual comedown. ProSupps Mr Hyde will leave you with plenty left in the tank regardless of the length and intensity of your sessions. If you were a fan of the original USPLabs Jack3d, then you should be scrambling to get a hold of Mr Hyde or its eventual replacement Hyde V2 (Version 2).
It's been the most popular workout of 2013 and will still be the most popular pre-workout of 2014. Cellucor C4's formula has stood the test of time because it works. It offers clean, smooth energy, no crashes and a spectacular boost in performance capacity in terms of strength, power, speed and stamina. Plus, it's by far the best tasting pre-workout around bar none. Cellucor struck gold with this supplement and you'll experience similar successes in the gym or on the field with this product. Cellucor C4 Extreme is a potent pre workout, with good, strong effects, tasty flavours and is suitable for both beginner or advanced trainers. And all these reasons are why C4 is, and continues to be the best pre-workout of 2014.
Special Mention Pre Workout Supplements of 2014
Driven Sports Frenzy - The infamous company are back with a range of new supplements including their new pre-workout replacement; Frenzy. With a burst of energizing stimulants including the purported DMAA alternative AMP Citrate along with pump ingredients and strength support ingredients, the product should please fans of the original.
BodyWar PreWar - Perhaps the strongest product I've seen in awhile, this pre-workout is packed to the brim with stims including AMP Citrate, Dendrobium, Pikatropin and Synephrine. If you want a product that will keep you working out possibly forever, give this a go.
Notable Pre Workout Supplements of 2014
Picking 10 supplements out of a huge range was no easy task and some worthy pre-workouts just missed out on making the list. These include:
With this comprehensive list of the best pre-workouts available in 2014, you'll be sure to find the perfect one to train better and reach new heights in your PBs.