Gaining weight and bulking up can be as difficult as losing weight and getting ripped. After all, not everyone has the time or luxury to eat every couple of hours. Trying to fight feeling full all the time is another major hurdle. One of the best ways to ensure easier and more convenient bulking is to use a quality mass gainer. Packed with protein, carbs, fats and a range of other ingredients, the right mass gainer will help you reach your goal weight in record time.
Picking that right mass gainer though can be a daunting task as there are so many mass gainers around, all with very different formulations and additions. Which is why we've taken the hard work out and picked the top 10 best mass gainers you could buy in 2016.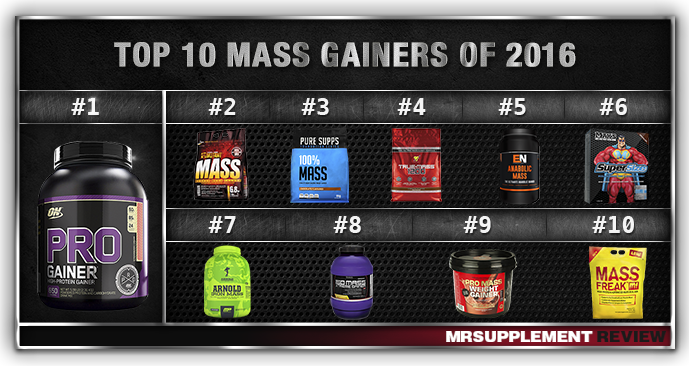 #1. Optimum Nutrition Pro Gainer or Pro Complex Gainer
Formerly known as Pro Complex Gainer, Optimum Nutrition's Pro Gainer retains the top position as 2016's best mass gainer. Why? Because it's a versatile lean gainer that can be used easily throughout the day and around workout times to offer everything you need to recover and build mass. With a blend of fast and slow absorbing proteins along with a good hit of carbs, each full serve of Pro Complex Gainer will supply you with a good sized main meal's worth of calories. With an impressive backing, Optimum Nutrition's Pro Gainer is the gainer or choice if you want lean gains or tend to put on fat easily whilst bulking.

#2. PVL Mutant Mass
If you have a hard time putting on weight, PVL Mutant Mass is the perfect mass gainer for your needs. Packing over 1000 calories per serve, Mutant Mass contains a sustained carbohydrate and protein complex along with some easily metabolised fats. As one of the tastiest mass gainers on the market, Mutant Mass was created for hardgainers who find it near impossible to put on weight. If that sounds like you, get ready to turn the tide with one of the best mass gainers still of 2016.  

#3. Pure Supps 100% Mass
If value for money is top of your priority, but you still want to get a great quality mass gainer that works, look no further than Pure Supps 100% Mass. Boasting over 750 calories per serve and plenty of protein to sustain muscle building and recovery processes, Pure Supps 100% Mass is a no frills mass gainer that pushes your body to grow without breaking the bank.

#4. BSN True Mass 1200
If you're not a trainer who's very patient and wants to see results fast, True Mass 1200 from BSN is the way to go. Packing more calories than any other weight gainer on this list, True Mass 1200 is the newer and bigger brother to the popular and original True Mass Weight Gainer. As its name suggests, the True Mass 1200 contains over 1200 calories per serve and utilises a premium blend of proteins to sustain delivery of amino acids to the muscles as well as a simple carbohydrate matrix to boost recovery and provide the extra energy you need to grow. True Mass 1200 is not for the faint hearted or nitpicky trainers. If you want mass and bulk, this is the one for you.

#5. Elemental Nutrition Anabolic Mass
Anabolic Mass is the flagship mass gainer from Australian company Elemental Nutrition. One of the first mass gainers to include testosterone support ingredients, each serving of Anabolic Mass contains added longjack, tribulus and a ZMA complex. It's a medium calorie mass gainer making it perfect as both a mass gaining shaker as well as a post workout recovery blend. It's an ideal mass gainer for trainers of all ages and training levels and is good for anyone wanting to sample test booster ingredients before they go in for the dedicated products.



#6. Max's Supersize
Max's Supersize mass gainer is still one of the most popular mass gainers around, buoyed by the popularity of the Max's Muscle Up Challenges. With 2016 set to be an even bigger year for the challenge, no doubt the demand for Supersize is going to grow as much as you will if you give this protein a go. It's a leaner gainer, with a 2:1 ratio of carbs to protein and plenty of added vitamins and minerals. As one of the tastiest options on the market, Supersize chocolate and banana go down a treat and if there's ever a protein powder that you look forward to having, it's Max's Supersize.

#7. Arnold Iron Mass
If you're ever in search of a lactose free mass gainer, this could be one of the best hopes you have. While not technically certified lactose free, Iron Mass uses a special and unique blend of beef protein and lactoferrin, none of which contain lactose. The only lactose that can be found would be in the "High Performance Healthy Fats" matrix in the form of whipped cream powder. With added lactase however, this could pretty much reduce any chance of stomach upsets for those who have lactose intolerance. As a mass gainer, it's truly revolutionary and one of the few mass gainers that aren't afraid to use fat as a core macronutrient. Again, the Arnold Iron Mass is not certified lactose free, but it's as close as you'll get.  

#8. Ultimate Nutrition Iso Mass Xtreme Gainer
As supplement company's go, Ultimate Nutrition never made any serious impact in the Australian market, with a bigger following in the US and Europe. However, their mass gainer is definitely one of the best around. Sure, the powder is a little bit grittier than most and the flavour could certainly be improved, but formula wise, it's a top notch option. With a massive 60g blend of 5 protein sources, 52g of a blend of 5 carb sources along with added creatine, glutamine, BCAAs, omega 3s and a range of other ingredients, Iso Mass Xtreme Gainer is a near perfect all in one mass gainer and protein powder. Because of its very even carb/protein ratio, you could also halve the serve and use it as an ideal pre or post workout shake.  

#9. Gen-Tec Pro Mass Weight Gainer
Nick Jones, founder of Gen-Tec is one of Australia's most successful bodybuilders and his experience and expertise with supplements certainly shows with this high quality mass gainer. It's an extremely delicious and easy to drink mass gainer shake which is simple in its formulation. Providing plenty of protein, fast digesting carbs and MCTs, Pro Mass Weight Gainer will help you bulk up fast without too much fat storage.
#10. Pharmafreak Mass Freak  
Hailing all the way from Canada, Pharmafreak have had a stellar 2015, with multiple new products released. Their fat burner and diuretic combination is one of the best around, but they also know how to create a worthy mass gainer. Mass Freak is high calorie and was designed for the hard gainers. With multiple sources of protein, carbs and omega 3 fatty acids, each full recommended serve of Pharmafreak Mass Freak is going to add almost 1000 extra calories to your diet, which is pretty much going to guarantee some serious bulk. It's another delicious shake that won't cost you an arm and a leg.

Notable Mass Gainer Proteins of 2016

This list wasn't an easy one to create as so many of the supplements could easily have switched positions as it really all depends on your body type and what you're looking for when it comes to a mass gainer. Some excellent mass gain protein powders did just miss out on the 2016 list including:
It's safe to say that any of the above proteins would be a good supplement to include in your stack. Due to the limited number of spots, many excellent proteins have missed out, but are definitely worth mentioning including:
Don't get caught out this 2016 by not knowing which mass gainer you should be getting to get you bigger than ever. With the above top 10 list along with a selection of other quality mass gainers, you'll be sure to find the perfect product for you.